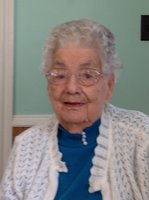 Otella Glenda Herman
HERMAN, Otella G. – Age 95 of Broad Cove, Lunenburg Co., passed away on Saturday, May 27, 2017 in Queen's General Hospital, Liverpool. Born in Broad Cove, she was the daughter of the late Roy and Mildred (Conrad) Smith, formerly of Broad Cove.
Otella was a life-long resident of Broad Cove who acquired many loyal friends and was a stay-at-home Mom. She also worked as a house keeper both in Petite Riviere and Broad Cove, she was also employed at Newell's Fish Plant, Voglers Cove. She also found time to be active in her community hall and her church. She was an avid knitter and often donated hats and mitts for newborns to the hospital.
She is survived by a son, Edson Herman, Broad Cove; grandchildren, David Herman, Hatchet Lake; Andrea (Derek) Baker, West Dublin; Blair (Marryett) Conrad, Ontario; great-grandchildren, Ryan Baker, West Lahave, Kaitlyn Baker, West Dublin; sisters, Faye (Bob) Bassett, Dartmouth; Claire Reinhardt, Halifax; as well as many nieces and grand-nieces and grand-nephews. Otella was predeceased by husband, Alton Herman; daughter, Elizabeth Conrad; brothers, Vance Smith and Merville Smith; sister, Margaret Smith. There will be no visitation at the funeral home by request.
Funeral service will be 1 p.m., Wednesday, May 31 at St. Mark's Anglican Church, Broad Cove with Rev. Oliver Osmond officiating. A private family interment will follow in Forest Hill Cemetery, Broad Cove. Family flowers only, donations may be made to St. Mark's Anglican Church, Broad Cove or a charity of choice. A most sincere thank you is extended to Dr. Gary Ernst and the staff at Queen's General Hospital for their compassion and care given to Otella over the past few months. Arrangements entrusted to Sweeny's Funeral Home, Bridgewater where on-line condolences may be made by visiting www.sweenysfuneralhome.com.