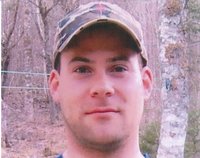 Aaron Lee Wilson
WILSON, Aaron Lee – It is with heavy hearts and profound sadness that we announce the passing of Aaron Lee Wilson, age 41 of Churchover, Shelburne County, on December 2, 2017. Born in Bridgewater, Aaron was the beloved son of Donald Wilson and Janet (Lutz) Josey. He grew up in LaHave, and after a year studying at St. Mary's University in Halifax, transferred to Sir Sanford Fleming College in Lindsay, Ontario, graduating as both a Fish and Wildlife Technologist and Forestry Technologist. During these years, he spent his summers working at Kejimkujik National Park where his experiences and love of nature helped determine his future path. Several jobs in his field eventually led to employment with the Department of Natural Resources in Churchover where Aaron became Acting Supervisor. This position kept him office bound and he eventually chose to return to field work. Aaron loved spending time with family and friends and had a special bond of love and friendship with his sister, Jennifer. His dog, Cassie, played a large role in his life. They were inseparable and she often went to work with him in the field. He spent as much time as possible enjoying the outdoors going backcountry camping, canoeing, fishing, and hunting. Aaron wanted to contribute to the preservation, management and well-being of the precious resources we are so blessed with in this country and spent his time with us dedicated to his lifelong passion.
Aaron was predeceased by his grandparents, Paul and Ethel (Warren) Wilson; Carleton and Pauline (Strong) Lutz; and cousin, Malinda Lutz.
Aaron is survived by parents Janet Josey, Barss Corner; Donald Wilson, Martin's Brook; and sister, Jennifer Wilson, Waterville, as well as stepfather, Wayne Josey and stepmother, Judith Burdett; several aunts, uncles and cousins.
Cremation has taken place. A gathering to celebrate Aaron's life will be held 4 – 6 p.m., Tuesday December 19 in Sweeny's Funeral Home, Bridgewater. Memorial Donations may be made to a charity of choice. On-line condolences may be made by visiting www.sweenysfuneralhome.com