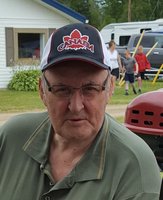 Roy Alfred Toope
TOOPE, Roy Alfred - Age 72, Bridgewater, passed away peacefully at South Shore Regional Hospital, Bridgewater on Wednesday, December 27, 2017. Born September 13, 1945 in Grimsby,England,he was a son of the late Alfred and Susan (Ewing) Toope.
Prior to retirement, he was a truck driver. He was a member of the Royal Canadian Legion, branch No. 24, Bridgewater where he was an avid volunteer; he also volunteered with the Salvation Army. He was a devoted family man.
He is survived by wife, Patricia (Ricketts) Toope; daughter, Barbara (Daniel Conrad) Toope; son, Jeffrey (Linh Trinh) Toope; grandchildren, Brayden (Weston Nickerson) Nickerson, Emma Toope; brothers, John Toope, Keith (Jeanette) Toope, Billy (Carol) Toope, Bobby (Brenda) Toope, Glenn (Jeanette) Toope; nephew, Edward (Rhonda Myra Zwicker) Toope; sisters, Thelma (Winston) Ricketts, Brenda (Phillip) Cook, Beverly (Kevin) Cheverie also several nephews and nieces.
He was predeceased by a brother, Lewis and a sister, Elizabeth.
A funeral service is planned for 2 p.m., Friday, January 5, 2018 at the Salvation Army Church,Pleasant Street, Bridgewater with Major Wilson and Darlene Sutton leading. Donations may be made to the Salvation Army Church or the IWK, Halifax.On-line condolences may be sent to the family by visiting www.sweenysfuneralhome.com.