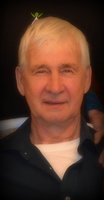 Allister Merle Silver
SILVER, Allister Merle - It is with broken hearts that we announce the peaceful passing of Allister Merle of Scarsdale, age 70 on Monday, January 29, 2018, at South Shore Regional Hospital, Bridgewater, surrounded by his loving family after a courageous battle with Pulmonary Fibrosis (IPF). Born in Watford on November 21, 1947 he was the son of the late Oscar and Ruth (Spidle) Silver.
He is survived by his loving wife, the love of his life, Frances; daughters, Tina Silver, Bedford; Danielle (Joseph) Conway, Middle Sackville; Niki Silver (Tony Smith), Fredericton, who meant the world to him; grand-daughters, Keesha, Jenna, Miranda and Kaylee whom he loved dearly and loving sister, Marlene (Arnold) Demone, New Germany. He had many nieces and nephews who he loved so much. Besides his parents, he was predeceased by his brother, Douglas and sister-in-law Betty.
Allister was married for 48 years and loved spending time with Frances on the Harley. He was an avid gardener, leaving much of his gardening wisdom behind. In his earlier days he was a volunteer fire fighter for the New Germany Fire Department. As an owner and operator of his own trucking business, he first worked for Bowater Mersey and then later went on to become a machine operator for Lands and Forest. He loved spending time in his tree lot and trucking trees to many parts of USA in the 1960-1980's. In the early 2000's, he changed the focus of his business from logging to excavating and landscaping, which he enjoyed very much until his illness caused him to retire in 2015. He loved spending time with his daughters and grandchildren which he loved very much. He will be deeply missed by his companion and best friend and his therapy dog, Chloe who was by his side right to the end. His friends meant the world to him and loved all the visits from friends and family since he returned home from Toronto in April 2017. Allister was a thoughtful and devoted husband. We will miss his bright eyes, beautiful smile and big loving heart. We wish to extend special thanks to the New Germany Lions Club, VON, Home Care, especially Herbie and Tanya, Brenda Peters our Care Co-ordinator and to the Palliative Care team, Dr. Gowan, Nolene and Heather for their dedication, compassion and wonderful care. We wish to extend special thanks to the staff at South Shore Regional Hospital, Bridgewater, extra thanks to Angie Connors for compassionate nursing care that Allister received during his final hours. She showed so much empathy and comfort to the family at such a difficult time.
Visitation will take place 7-9 p.m., Friday, February 2 in Sweeny's Funeral Home, 4895 route 10, New Germany. A celebration of Allister's life will be held 2 p.m., Saturday February 3rd in Trinity Lutheran Church, New Germany with Pastor David Whynot officiating. A reception will follow in the church hall. Family flowers only. Donations in Allister's memory can be made to the New Germany and Area Lions Club, Trinity Lutheran Church New Germany or to Victorian Order of Nurses – Lunenburg branch.On-line condolences may be made by visiting www.sweenysfuneralhome.com.