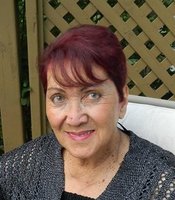 Yvonne Virgie McLean
It is with great sorrow that we announce the passing away of Yvonne Virgie McLean in her home on Tuesday, January 23rd, 2018 at the age of 81.
She was the daughter of Elizabeth Jane Ernstzen and Frank John Ernstzen. Yvonne was born on December 31, 1936 in Cape Town, South Africa. She left her birth country in January 1956 at 19 years old. She was travelling to the United Kingdom with her sibling's when her own mother passed away at the age of 50. Following this tragic incident, Yvonne and her family, decided to remain in England. She eventually immigrated to Canada in 1972 when her daughter was under one year of age.
Yvonne grew up in a very large family. There were nine children in total in the Ernstzen family. She has sibling's living in South Africa, England and Ontario. She is predeceased by her parents Elizabeth Jane Ernstzen and Frank John Ernstzen, including sibling's Mervin Ernstzen, and Sonya Keon.
Growing up, Yvonne shared she had a determined personality and got herself into all sorts of trouble at school. She experienced the typical ups and downs with her sibling's throughout childhood. Yvonne has a close knit family that will continue to share fond memories of their sister's years living in South Africa and England.
After leaving England, Yvonne spent time living in Toronto, Crystal Lake, Pickering, and Ajax, Ontario. She loved playing various card games with family and friend's. Yvonne was talented with her hands and enjoyed knitting, crochet, ceramics, and making crafts as gifts for others.
She met George McLean when living at Crystal Lake, Ontario, and several years later they were married in Pickering, Ontario on July 28th, 1990. For many years they enjoyed living in their large home in Pickering with their blended family before retiring with her husband to the South Shore of Nova Scotia. They enjoyed many memorable years together in Nova Scotia until her husband passed away on August 23rd, 2005.
Yvonne worked for Canada Post in both Ontario and Nova Scotia, and retired approximately 14 years ago. Many people from the town of Lunenburg enjoyed Yvonne's out-going sense of humour. She was a friendly face at the post office, and people loved her British accent. She shared good and bad times with co-workers, and enjoyed many laughs too. Yvonne was the Lead Hand at the Lunenburg Post Office, and worked hard to please her customer's and employer.
Yvonne was called, Ouma V. by her two beloved grandchildren. They became the center of her
life when they were born in 2005 and 2008. She enjoyed every picture, birthday and special occasion that she could share with her grandchildren. Yvonne was a very playful, attentive, and loving presence in their lives. A special bond was created with her grandchildren that will live in their hearts forever.
Always a devoted mother was Yvonne to her daughter, Natasha Sass, and she did everything possible to help her daughter succeed in all she wanted to achieve. She sacrificed a lot during her daughter's younger years so she would have a better life. Her strength, love, and independence have empowered her daughter to become the person she is today.
Poor health was a major obstacle for Yvonne to live the quality of life she deserved. She had an undiagnosed hole in her heart that was discovered in her late 50's - 60's. Yvonne had various surgeries on her heart and arteries, including wearing a pacemaker. As she aged, walking and other daily activities became arduous for Yvonne. Although she faced major obstacles, Yvonne was very determined, and still continued to go shopping, manage her daily affairs, and lived independently throughout her life. She visited her daughter, son-in-law and grandchildren yearly, and continued to drive her car.
Yvonne was a gregarious, confident, and humorous woman. She loved to dance when she was able, and enjoyed many musicians, including Michael Jackson, Rod Stewart, and Michael W. Smith. Her personality was captivating and engaging. She loved to tell stories and made everyone laugh. Yvonne was a very generous woman who was willing to help anyone in need. She loved her family dearly!
Cremation has taken place on Saturday, January 27th at 10:30 a.m. The family is organizing a Celebration of Life gathering for the end of April 2018 for friends and family to honor the life and death of Yvonne McLean. The location is still to be determined.
Yvonne had a strong Christian Faith. She is at home now in perfect peace with our Lord and Saviour Jesus Christ. Your presence we will miss. Your memory we treasure. Loving you always.
"And I heard a voice from heaven saying, "Write this: Blessed are the dead who die in the Lord from now on." "Blessed indeed," says the Spirit, "that they may rest from their labor for their deeds follow them." Revelation 14:13