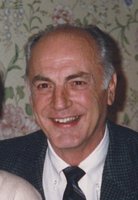 Neil Arthur Alexander
ALEXANDER, Neil Arthur – Age 85, of Bridgewater, Lunenburg Co., passed away on Friday, February 9, 2018 in South Shore Regional Hospital, Bridgewater. Born in Windsor, Ont., he was a son of the late William and Anne (Hemmingway) Alexander.
Surviving are his daughters, Kimberly (Rhys) Harnish, Hubbards; Debbie (Stephen) Brown, Okotoks, Alb.; Patti Alexander Gill, Evergreen, Colorado; grandchildren, Simon (Rachel) Brown, Alb.; Neil Brown, Alb.; Kate (William) Brown, Hubbards; Luke (Emily) Harnish, Hubbards; Alexander (Krissy) Gill, Tucson, Arizona; Charlotte Gill (John Hobgood), Sacramento, California; great-grandchildren, Gemma, Alec and Elise Brown; Alexander and Abigail Brown; Alexander Gill; Rhys David Harnish; several nieces and nephews. He was the last surviving member of his immediate family.
Besides his parents, he was predeceased by his wife, the former, Marjorie Elaine McBride; brother, Herbert Alexander.
There will be no service held at this time. No flowers please, donations may be made to the SHAID Animal Shelter or the Terry Fox Foundation. Arrangements entrusted to Sweeny's Funeral Home, Bridgewater where on-line condolences may be made by visiting www.sweenysfuneralhome.com.