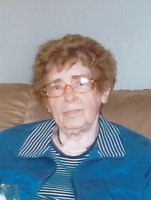 Celia Elizabeth Bollivar
BOLLIVAR, Celia Elizabeth – of Halifax, formerly of Middlewood, Lunenburg Co., passed away on Saturday, February 10, 2018 in the Q.E. II Health Center, Infirmary Site, Halifax.
Born in Middlewood, she was a daughter of the late Alonzo and Lillian (Weagle) Bollivar.
Surviving are her daughter, Ann (John) Uhlman, Lower Sackville; grandchildren, Lisa Uhlman, Dartmouth; Connie Uhlman, Lower Sackville; sister, Lela Bollivar, Halifax; brother, Judson Bollivar, Middlewood and numerous nieces and nephews.
Besides her parents, she was predeceased by sisters, Muriel Sarty and Anne McInnis; brothers, Burton, Lonnie, Ivan, Merle and Frank.
Celia's personal request was for family visitation only which will take place from 2-4 p.m., Wednesday, February 14th in Sweeny's Funeral Home, Bridgewater. No funeral service will be held. On-line condolences may be made by visiting www.sweenysfuneralhome.com.