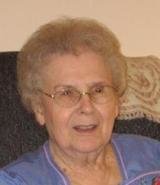 Helen Grace Brandal
BRANDAL, Helen Grace – Age 88, passed away peacefully on March 14, 2016 at Saint Vincent Nursing Home, Halifax. She was the daughter of the late Charles Lloyd and Lillian Ruth (Crouse) Crouse.
She is survived by her son, Peter (Marilyn); grandson, Kjell; sister, Shirley Richard; cousin, Nicholas (Marguerite) Oxner; and niece and nephew. She was predeceased by her husband, Helge; brothers, Ernest and Michael; sister, Marjorie Hubley. Helen lived most of her life in Bridgewater and only in her later years as her health decline, she moved to Lower Sackville to be near her son and family. She was a member of Saint Paul's Lutheran Church, Bridgewater, where she enjoyed many years as a Sunday school teacher and on several committees. She has donated her body to science at Dalhousie Medical School and with Helen's wishes there will be no memorial service.
A public graveside service will be held 3 p.m., Saturday, September 16 in Maple Leaf Cemetery, Conquerall Bank with Rev. Paul Jensen officiating. Family flowers only, donations may be made to Hope for Wildlife or charity of choice.