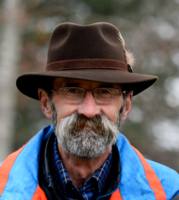 Timothy Hugh Neily
It is with great sadness that we deliver the message that on Wednesday, May 16, 2018, our beloved husband and father has passed away. Tim was born in Middleton, Nova Scotia on April 22, 1954 to the late Dr. Harold H. Neily and Edith Harriet-Claypool Neily, the youngest of three boys.
He is predeceased by his older brother Geoffrey Neily of Winnipeg and is survived by an older brother Richard Neily of Ottawa. Tim's wife Marilyn Neily of Pleasantville, and their children Jonathan of Iqaluit, NU and Colleen of Saint Paul, AB will lovingly remember Tim.
Tim spent his childhood and teenage years on various Canadian Airforce bases both in Canada and abroad. Upon high school graduation from Colonel Grey High School in Charlottetown, PE, he graduated from Mt Allison University followed by graduation from St Mary's University.
In 1980, Tim moved to Iqaluit, NU to take on a teaching position at Gordon Robertson Education Centre followed by a position at Arctic College and then headed up the formation of the Nunavut Coroner's Office with the Department of Justice with the new Nunavut Government in 1999. He served in the capacity as Chief Coroner until his retirement in 2013.
Tim was very involved in community life, having served on the local school board, the Iqaluit District Education Authority, Nunavut Search and Rescue and Emergency Measures and as a local, territorial and international indoor soccer official. He enjoyed his time in Iqaluit, taking part in the great outdoor lifestyle that was at our fingertips. His true passion was to spend time in his woodworking shop where he was designated a true craftsman. His fine woodworking products have been used as awards in national curling events, international sporting events and long-term service awards.
Tim was our hero and we were so proud of him and the way he faced the challenges of his illness. Cancer is a terrible disease, but we discussed daily how blessed we were to have had the time together that we did have. Our entire family would like to acknowledge the thoughtful, compassionate and professional treatment Tim received through the South Shore Palliative Care Service. Tim felt very passionate that any memorial donations that were made in his remembrance be made to the South Shore Regional Hospital Foundation and designated to the South Shore Palliative Care Service. This would help to ensure that their good work could continue to help others that faced the same struggles that he had experienced. Donations may be made through Sweeny's Funeral Home.
We would like to express our sincere thanks to our family and friends for their support and kind words of condolences. In addition, thanks and recognition to the nursing staff and medical staff of the Nova Scotia Health Authority that were involved in Tim's treatment throughout his illness.
Tim's Celebration of Life will be held at 2:00 p.m. on Wednesday, May 23, 2018 at the Pleasantville Fire Hall.
The miracles we pray for are not always manifested exactly how we would wish them to be. Tim would have wished for many more days to share with his family and friends, to experience many more adventures and travels, but things happen which we may not always completely understand, until we too have reached our final days here on earth.