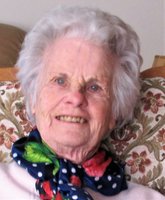 Jean Elizabeth Silver
SILVER, Jean Elizabeth (Hebb)
Age 95, of Broad Cove, Lunenburg Co., passed away peacefully at home, surrounded by her family on September 25, 2018. Born in Hebbville, Lunenburg Co. on March 17, 1923, she was the only daughter of the late Edward and Alice (Wambolt) Hebb. Jean is survived by sons, John (Donna), Peter (Patricia); grandchildren, Shawna (Mark), Stacie (Pete), Matthew (Krystal), and Aaron (Kim); great-grandchildren, Nehiley, Madia, Zoelle, Oliver, Everett, and Milena; sister-in-law Lillian Hebb; foster brother, Gary Zwicker; and foster sister, Margo VanSlate. She was predeceased by her husband, Henry, and brother, Lloyd.
Jean graduated from Bridgewater High School and MacDonald Business School, and later in life, retired from the Nova Scotia Teachers' Union. She belonged to the IODE in Halifax and Sydney and was part of its Provincial Executive for several years. After moving to Broad Cove, she joined the Women's Institute of Nova Scotia. Also an avid bridge player throughout her long life, she was most recently a member of the Seaside Bridge Club in Liverpool where she spent many enjoyable Friday afternoons. Jean loved to travel and led a very active, independent lifestyle. After graduating high school, prior to attending business school, she spent a year in the United States living with her aunts and uncles, having been fortunate enough to spend New Year's Eve 1939 in Times Square, NY. She also had fond memories of taking each of her grandchildren on individual cruises while they were teenagers; she was accompanied by Shawna to Alaska, Stacie through the Panama Canal, Matthew to the North Sea and Russia, and Aaron through the Mediterranean.
The family would like to extend a sincere thank you to the VON, Palliative Care Unit, South Shore Regional Hospital, and the Cardiology Division at the QEII Health Sciences Centre for their excellent care. A debt of gratitude is also owed to family friends that have lent their support and care over the past few months.
Funeral service will be 11:00 a.m., Monday, October 1, in Holy Trinity Anglican Church, Bridgewater, Reverend Oliver Osmond officiating. A reception will be held following the service in Royal Canadian Legion Branch No. 24, 78 Churchill Street, Bridgewater. In lieu of flowers, donations may be made to the Alzheimer's Society or the Heart and Stroke Foundation. Arrangements have been entrusted to Sweeny's Funeral Home, Bridgewater, where online condolences may be made by visiting www.sweenysfuneralhome.com