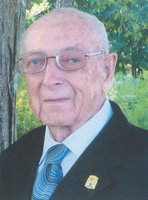 Oscar Herbert Arenburg
Arenburg, Oscar Herbert of Bridgewater, passed away peacefully, July 24, 2019 in the Veterans Unit of Fishermen's Memorial Hospital, Lunenburg. He celebrated his 100th birthday on July 7 with family and friends. Born July 7, 1919 on a farm in Midville Branch he was a son of the late George and Ella (Wentzell) Arenburg. Oscar married his sweetheart, Phyllis Manthorne and they remained married for 67 years. He joined the Army in 1941 and was later shipped overseas where he was trained as a sniper but did not see action. After WW11, Oscar returned on the Queen Mary to New York and travelled by train to Bridgewater. His working life was as a heavy machine operator for the Nova Scotia Department of Highways. and later as a Stationary Engineer at LaHave Creamery; he excelled at fixing anything mechanical.
In the 1980's, Oscar and Phyllis became members of the Seabreeze Campers Club and began travelling with their motor home around the Maritimes, Ontario and the U.S. Oscar continued to travel until 2009. He had also been active in the Royal Canadian Legion.
Oscar is survived by his son, Dale (Pearl) Arenburg; daughter, Paulette (Brian) Oickle; 4 grandsons, Todd Arenburg (Anita MacDonald), Alan Arenburg (Patricia Brooks), Kevin Oickle (Jennifer Wales), Lorne Oickle (Krista Matthews); 8 great-grandchildren; 2 step great-grandchildren; 2 step great- great-grandchildren; many nieces and nephews. He was predeceased by his wife, Phyllis; brother, Lawson (Hilda) Arenburg; sisters, Myrtle Arenburg and Mildred (Herman) Wentzell; nephews, Hector and Lindsay Wentzell; special niece, Janet Wentzell.
Oscar's family is very appreciative of the care given to him by the staff of the Veterans Unit of Fishermen's Memorial Hospital and Veterans Affairs. Cremation has taken place. A graveside service will be held Saturday, September 26th at 2 p.m. in Brookside Cemetery, Bridgewater. Reverend Willis Ott Officiating. In lieu of flowers, donations can be directed to the Veterans Unit of Fishermen's Memorial Hospital, Lunenburg or a charity of choice. Arrangements have been entrusted to Sweeny's Funeral Home, 35 York St. Bridgewater, where online condolences may be made by visiting www.sweenysfuneralhome.com