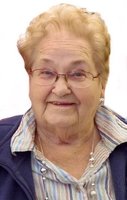 Goldie Althea Mossman
MOSSMAN, Goldie Althea - Age 94, passed away Wednesday, April 22, 2020 in Rosedale Home for Special Care, New Germany. Born June 23,1925 in New Germany, she was the daughter of the late Lemuel Johnston and Mildred Louise (Milbury) Lohnes.
She was a member of Epworth United Church, New Germany; a Charter and Life Member of the Ladies Auxiliary of the Royal Canadian Legion, Branch 102, New Germany, where she served as Chaplain, Secretary, Sergeant of Arms, and First Vice President. Goldie always put her family and community first. Her family members received personalized homemade quilts and many knitted hats and sweaters. Her door was always open and you could always expect a delicious meal even if you arrived unannounced. She enjoyed spending her time surrounded by family and friends at the cabin and looked forward to the many meals and musical get togethers they shared. She dedicated many hours to volunteering in her community. She made quilts for donations as fundraisers for many organizations and knit hats for premature babies at the hospital.
She will be lovingly remembered by her children, daughters, Sharilyn Mossman, St. Catharines, Ont.; Joanne (Glenn) DeMone, Scarsdale; sons, Mervyn (Donna), New Germany; Ronald (Judy), Scarsdale; Allister (Diana), Cookville;10 grandchildren,14 great grandchildren; many nieces and nephews; a brother, Lemuel (Audrey) Lohnes, New Germany and brother-in-law, Dave Camp, Halifax.
She was predeceased by husband, Carman Mossman of 66 years; brother, Walter Lohnes (childhood); sisters, Ethel De Napoli and Holley Parker Camp.
A special thank you to the staff at Rosedale Home for all their care and compassion.
A public graveside service will be held on Tuesday, August 25, at 2PM in Epworth Cemetery, New Germany. Rev. David Lutes officiating.
As for public health regulations, maximum 250 people are permitted to attend; and for your safety, please consider wearing a mask and respect the physical distancing requirements; as well for your comfort, please bring a chair.
Memorial donations can be made to the Rosedale Home for Special Care Bus Fund, Epworth United Church or charity of choice.

When I have come to the end of the road,
And the sun has set for me,
I want no rites in a gloom filled room,
Why cry for a soul set free.
Miss me a little but not too long,
And not with your head bowed low.
Remember the love that we once shared,
Miss me- but let me go.
For this is a journey we all must take,
And each must go alone.
It's all part of the Master's plan,
A step on the road to home.
When you are lonely and sick at heart,
Go to the friends we know,
And bury your sorrows in doing good deeds
Miss me – but let me go."
Author Unknown