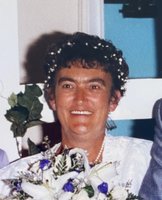 Janice Lillian Collicutt
It's with great sadness that we announce the passing of Janice Lillian Collicutt, age 67 of Mahone Bay. Janice passed away after a long, courageous battle with cancer on May 2, 2020 at Fishermen's Memorial Hospital with her husband by her side. She was the daughter of the late James and Anne (Taverner) Pike, born September 3, 1952 in Port aux Basque, NL.
Janice loved the outdoors. Whether it was spending time at the camp, birdwatching, four wheeling or chasing the deer from her garden. It was the small things in life that brought her joy, Christmas mealtime with family or playing a round of cards with friends. She had a keen sense of humour, a love for ice cream, puzzles, and four-legged friends.
She spent her career in service to others. She was a long-time employee of the Mahone Nursing Home and later the Veterans Unit at Fishermen's Memorial Hospital. She strived to bring meaning, comfort and enjoyment to the residents through her work as a Recreation Director. She was well loved by all the friends she made along her journey.
She was a devoted wife to her soulmate Kim Collicutt; a loving mother to Shayne (Amanda) Brinson and Danielle (Patrick Freeman) Brinson; a dedicated sister to Christopher Pike; served as a sister in law to Linda (Clearance Jollymore), Chrystal (Alfred Gates), Margo (Richard Bosch) and Richard (Barbara James); and a special nana to Hayden and Reegan McCarthy, Chloe and Logan Brinson. Janice was predeceased by sister in law Cathy (Allan Leopold).
A special thanks to the Healthcare providers at Fishermen's Memorial Hospital, South Shore Regional Hospital and the Halifax Infirmary. Memorial donations may be made to the Fishermen's Memorial Hospital Veterans Unit or the charity of your choice. Rest in peace.
Arrangements have been entrusted to Sweeny's Funeral Home, 35 York Street, Bridgewater, where online condolences may be made by visiting www.sweenysfuneralhome.com.