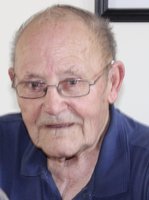 Laurie Maxwell Silver
Silver, Laurie Maxwell -age 88 of Bridgewater, formerly of West Northfield, Lunenburg County, passed away May 5, 2020 in Fisherman's Memorial Hospital, Lunenburg. Born on May 26, 1931, he was a son of the late George and Viola (Deal) Silver.
Laurie is survived by son, Derryl (Christine), West Northfield; daughter, Jeanette (Trevor) of Bridgewater and Jeanette's two children; daughters, Joyce Lavigne, Ottawa; Ethel (Kevin) Butler of Auburn and their three children; six great-grandchildren. He was predeceased by his wife, Gloria.
Due to the covid-19 pandemic, cremation has taken place. Burial will be 2 p.m.,Sunday, July 19 in Maple Grove Cemetery, West Northfield. In lieu of flowers, donations in Laurie's memory may be made to a charity of choice. Arrangements entrusted to Sweeny's Funeral Home, Bridgewater where on-line condolences may be made by visiting www.sweenysfuneralhome.com