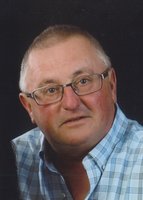 David Elwood Langille
We are very saddened to announce the sudden passing of David Elwood LANGILLE, 67, at home on Friday, May 22, 2020.
David was born in Bridgewater on March 2, 1953. Born the first of three children to the late Elwood and Ruth (MacKay) Langille. He is survived and greatly missed by his wife of 31 years, Nancy (Hazelton), his sister, Donna (Curtis) Hirtle, Northfield; brother, Brian of Bridgewater; sister-in-law, Judy (Robert) Deveau, sister-in-law, Meredith Hazelton, and brother-in-law, Scott Hazelton, all of Yarmouth; 8 nieces and nephews, and God Child, Bria Getson of Middle Cornwall. David is predeceased by his in-laws, Walter and Verna Hazelton and brothers in-law, Joseph and Glen.
In his younger years he became a licenced Carpenter. He worked with Mailman Projects for 30 years. Recently retiring from Mailman Projects; he started working for Fresh cuts market, travelling to the Valley and surrounding areas making new friends. He was also an Honorary Fireman with the Northfield District Fire Department and served the community for 40 years.
If you invited David over for a meal, you better have tomatoes, he loved tomatoes more than anyone else. He was a kind, giving, gentle soul and had a great respect and love for automobiles, especially his '62 Austin Healy, Honda Goldwing and 1979 Ford F150 Ranger. He cherished getting out on the open road. He enjoyed going to the camp with his many friends and they enjoyed all the great stories he told. He was a catcher for the Venoitte's TNT's ball team and he attended the St. Joseph's Roman Catholic Church, in Bridgewater. He was very punctual, and he bought Nancy a house full of clocks and watches to no avail. He enjoyed telling hilarious stories to everyone he met and had a great sense of humor. David had an easy-going attitude, held no grudges, did what he felt was right, and made everlasting friends easily all throughout his life. David will be dearly missed by his wife, his dog Elvin, family, and many close friends.
A private, family graveside service was held at Maple Grove Cemetery, in West Northfield. In lieu of flowers, donations can be made to the Kidney foundation of Canada, Canadian Diabetes Association, or the Salvation Army.
Arrangements and services entrusted to Sweeny's Funeral Home, Bridgewater, where on-line condolences may be made by visiting www.sweenysfuneralhome.com