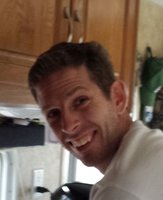 Michael Allan James Godden
GODDEN, Michael Allan James – Age 39, Dartmouth, died on Monday, June 22, 2020 in Waverley. Born in Ottawa, he was a son of Roger and Elizabeth (Smith) Godden of Dayspring, Lunenburg Co.
Michael worked as a personal care worker for a number of years.
Besides his parents, he is survived by a sister, Tracy Lynn (Sean) Hemus, Wooler, Ont.; maternal grandfather, Martin Smith (Elizabeth), Dartmouth; several nieces, nephews, aunts, uncles and cousins.
He was predeceased by maternal grandmother, Vivian Grace Smith; paternal grandparents, Charles and Dorothy Godden.
A graveside service and committal will take place at a later date in Dayspring Cemetery, Dayspring. In lieu of flowers, donations may be made to the Canadian Red Cross or Schizophrenia Canada.
Thank you to Jane his care worker from Connections, Dartmouth for her care, compassion, help and assistance and to all the Connections staff; Sarah March of the Department of Community Services, Tim Walker for always being there over the past 25 years and to all his many family and friends.
Arrangements entrusted to Sweeny's Funeral Home, 35 York Street, Bridgewater, where on-line condolences and messages may be made by visiting www.sweenysfuneralhome.com