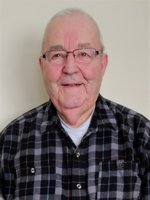 Owen Arnold Turner
TURNER, Owen Arnold - It is with great sadness that the family of Owen Arnold Turner, 90, of West Northfield announce his passing on July 28, 2020 in the Halifax Infirmary, Halifax. Born in West Northfield, Lunenburg County, on January 6, 1930, he was a son of the late John Arnold Turner and Lilda Blanche (Bruhm) Turner.
He was the last surviving member of his immediate family. He is survived by his daughter, Judy (Thomas) Mailman, Bridgewater; his son, Wade (Heidi) Turner, Bridgewater; his daughter, Gail (Jason) Mercer, West Northfield. He is also survived by his grandchildren, Justin (Kara Swain) Mailman, St. John's, NL; Jamie Lynn Mailman, Truro; Leah Turner and Luke Turner, at home; by numerous in-laws, nieces and nephews in the Turner and Hebb families. Besides his parents, he was predeceased by his beloved wife of 54 years, Olive Louise (Hebb) Turner in December of 2019; his brother, Harris Arthur Turner, and two siblings in infancy.
Owen was well known in local business circles, having been at one time a partner in the family sawmill, J.A. Turner and Sons, as a Purina Feed dealer, builder of houses in and around Bridgewater and as a subdivision developer. He was never happier than when managing and supervising machinery, building a road or clearing a lot, even if it were someone else's project. Even in his last days he was scribbling illegible notes outlining plans; what needed to be done, and when, and by whom. He was remarkably healthy and alert until his final few weeks. He was a product of his generation and one of the last of a breed. He was very proud of the care he was able to provide to "his" Olive during her lengthy struggle with MS and he missed her terribly. Their ashes will be interred together in the family plot in Maple Grove Cemetery, West Northfield.
The family would like to thank the friends and neighbours who kept an eye on him since Olive's passing and to Trish, who helped with personal care and errands and listened to his stories with patience and good humour.
As for public health regulations, maximum 250 people are permitted to attend; and for your safety, please consider wearing a mask and respect the physical distancing requirements.
Cremation has taken place under the direction of Sweeny's Funeral Home, Bridgewater. A public graveside service will be held on Sunday August 30, 2020 at 2 p.m. at Maple Grove Cemetery, West Northfield. Family flowers only. Memorial donations, if desired, may be made to St. Andrews Lutheran Church, West Northfield, the MS Society, Atlantic Division, or to a charity of choice. On-line condolences may be made by visiting www.sweenysfuneralhome.com