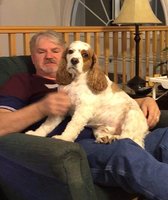 Michael "Mike" David Thompson
THOMPSON, Michael "Mike" David – Age 56, of Watford, passed away on Tuesday, August 25, 2020. Born in Middleton, he is survived by his loving wife, Jeanne Thompson; father, Audley and stepmother Pauline Thompson; brothers, Scott, Middleton; Audley "Brian", Red Deer, Alberta; sister, Teresa Thompson, Lawrencetown; children, Jason (Monique), BC; Jonathon, Bridgewater; stepson, Mark Lowe (Tracey), Maitland; step-grandchildren, Tristian Lowe (Melany), Brittany Lowe (Stephen Archibald); step-great grandchildren, Avery Lowe, Broden Lowe, Nevaha Lowe; his best bud, Daniel; sister-in-law, Joan (Wilson) Williams; brother-in-law, Wayne Cook; several nieces and nephews. Mike was predeceased by his mother and fraternal grand parents.
Mike worked for Clarke Road Transport and took pride in his job; he was a great truck driver. He was a friend to everyone, giving of himself and his money. He was a great neighbor and was always there to help. Mike was not just a brother-in-law to Joan but a brother she loved very much. Mike and Jeanne, along with Daniel loved driving down the road in their Freightliner Truck visiting many places on the way listening to Tom Petty. Many of his friends and family woke to a message on there phones of a cat doing something silly. Mike was a Chicago Blackhawks fan.
Funeral arrangements are under the care and direction of Sweeny's Funeral Home, Bridgewater. A Celebration of Life will be held at 4510 Northfield Road, Watford on Sunday, August 30 at 2 p.m. In lieu of flowers, donations may be sent to Sweeny's Funeral Home, 35 York Street, Bridgewater to help the family pay for funeral expenses. On-line condolences may be made by visiting www.sweenysfuneralhome.com