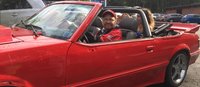 Richard Carmen Corkum
CORKUM, Richard Carmen – Age 52, of Bridgewater, Lunenburg Co., passed away on Sunday, September 20, 2020 in Yarmouth General Hospital, Yarmouth as a result of a lifelong battle with Fabry Disease. Born in Bridgewater, he was a son of the late Robert Bruce and Burlie Grace (Deamond) Corkum.
Richard was a computer technician for most of his working career. The love of his life was his daughters and he had a great passion for his mustangs and time spent at the cottage properties in Crescent Beach and Bush Island.
Richard was an advocate for the Canadian Fabry Association where and gave his personal involvement with research, development and testing with the National Institute for Health (NIH) for the disease and by donating bone marrow for study purposes. The family would like to thank all the nurses throughout the years that helped Richard with his medical care.
Surviving are his wife and soulmate, Tanya (Ramey) Baron, Bridgewater; daughters, Jozy Corkum, Chloe Corkum and stepdaughter, Kiana Baron, all of Bridgewater; best friend, Craig Penney, Simpsons Corner; cousin, Mallory Corkum, Bridgewater; his loyal dog and sidekick, Dante and his many friends near and far.
Besides his parents, he was predeceased by sister, Christine Hirtle; brothers, Bob Corkum and Randy Corkum; nephew, Jamie Hirtle.
There will be no services held at this time. No flowers by request. Donations may be made to the Canadian Fabry Association.