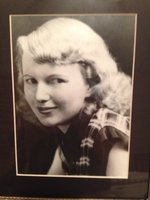 Erma Marie Alexander
Alexander, Erma Marie – Age 85 of Bridgewater, passed away September 26, 2020 in Rosedale Home for Special Care, New Germany. Born July 19, 1935 in Oak Park, Shelburne County, she was a daughter of the late Lovitt and Cecilia (Nickerson) Blades.
She is survived by her daughter, Donna (Barry) Bolivar, Baker Settlement; sons, Gary (Ivanka) Hiltz, New York; Garth (Marilyn) Hiltz, Martin's Point; Richard (Arletta) Hiltz, Yarmouth; Donnie Jr. Hiltz, Blockhouse; brothers, Evertte (Shirley) Blades, Glendon (Kay) Blades, Corbett (Cheryl) Blades; 9 grandchildren and 10 great-grandchildren.
Besides her parents, Erma was predeceased by brother, Elton Blades, baby sister in infancy and the father of her children, Donald Hiltz.
A private family burial of ashes will be held in Barrington at a later date. In lieu of flowers, donations in Erma's memory may be made to the Canadian Cancer Society or the Alzheimer Society. Arrangements entrusted to Sweeny's Funeral Home, Bridgewater, where on-line condolences may be made by visiting www.sweenysfuneralhome.com.
The family wishes to extend special thanks to the staff at Rosedale, for their care and compassion during mom's short stay with them. Thanks also to her friends at Pineview apartments for their friendship and support.