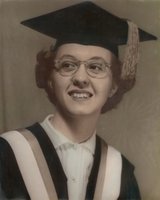 Ruth Marjorie Lake
Lake, Ruth Marjorie, Age 88 - Born in Bridgewater on August 14, 1932, she was the only child of the late John Nelson Coffill, and Bertha Mae (Lowe aka Kaizer).
A graduate of Acadia University with an Internship at University of Toronto to become a Dietician, she worked at the Victoria General Hospital in Halifax until she married and started a family. 30She sang in the Anglican Church Choir and the South Shore Chorale. An avid knitter and seamstress, she kept her family supplied with mittens and socks, and her daughters with dresses.
She is survived by children Peter Stafford Lake, and his wife Mary Ann (Marshall) of Bridgewater; Susan Rachel, and her husband William Prince, Miramichi, New Brunswick; Allen Coffill and his wife Christine (Selig), Lapland; Mary Ruth (Milheron) and her husband Michael Moore, Southwest Port Mouton; Nancy Eileen and her husband Ronald Collier, Murray Harbour North, PEI; grandchildren, Rebecca Anne Lake (Harold MacAuley), her son Liam Timothy Christopher Noonan; Jennifer Kay (John Angus) MacDonald, their children Kayley Marie, John Angus Jr., and Cameron Michael James; James Arthur Lake and his wife Sarah (Wark), their sons Jacob James and Landon Harlan Lake; James's son, Fenix Lamont King Lake; and James's stepdaughter, Asia Shannon King; Anthony Raymond Lake (Erin Russell), their daughter, Aspen Ryleigh Lake; Jonathan Arthur Prince and his wife Jessica (Mauger), their son, Elliot Arthur Prince; Michael James Prince (Michelle Oakley); Benjamin Thomas Eric Lake and his wife Jessica (Feener), their sons, Sawyer Allen and Simon Eric Lake; Matthew John Mason Lake; Taylor Allen Leigh Lake and his wife Chloe (Tanner), their daughter Maris Lake; Robert Neil (Katelyn Lindsay) Milheron; Joseph Arthur Collier and his wife Candice (McIntosh), Rachael Irene Collier; and Owen Edward Collier.
Besides her parents, she was predeceased by her husband, George Alfred.
Cremation has taken place under the direction of Sweeny's Funeral Home, Bridgewater. A graveside service will be held at 2PM Friday, October 2, 2020 in Brookside Cemetery, Bridgewater, with Rev. Simon Davies officiating the interment of Ruth and George's ashes. Family flowers only. In lieu of flowers, memorial donations may be made to a charity of your choice and On-Line condolences may be made by visiting www.sweenysfuneralhome.com.
As for public health regulations, maximum 250 people are permitted to attend; and for your safety, please consider wearing a mask and respect the physical distancing requirements. Also, for your comfort during the service, please bring a chair.