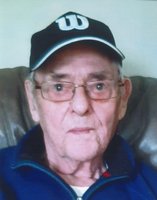 Marshall William Bush
Bush, Marshall William- age 91 of Bush Island, passed away October 1, 2020 in South Shore Regional Hospital, Bridgewater. Born on Bush Island, he was a son of the late, Howard and Elsie Bush.
Marshall is survived by his sons, Raymond (Sheila), West Dublin; Wayne (Janet), West Dublin; daughters, Sheila (George), Lower Branch; Elaine (David), Crousetown; eleven grandchildren; twenty-five great-grandchildren; one great great-grandchild. He was predeceased by his wife of sixty-seven years, Frances; brothers, Max, Lee, Basil and Ernest.
A graveside service will be held 2 p.m., Monday, October 5 in Bush Island Cemetery, Bush Island, Rev. Willis Ott officiating. In lieu of flowers, donations in Marshall's memory may be made to the Bush Island Cemetery or a charity of choice. Arrangements entrusted to Sweeny's Funeral Home, 35 York St., Bridgewater where on-line condolences may be made by visiting www.sweenysfuneralhome.com