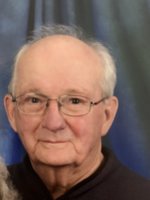 Wilfred "Gushie" Naugler
NAUGLER, Wilfred "Gushie" - The family of Wilfred Naugler, announces his passing on the evening of October 2, 2020 at the age of 94. He was predeceased by his wife, Pauline Joan (Crouse) Naugler on March 31, 2020.
He was the youngest child of Harold Albert Naugler and Rose Jennie Veinot, and was predeceased by his brothers, Harry, Marshall, Blake and Lloyd; sisters, Alta, Evelyn, Margaret, Alice and Maxine.
He married Pauline on July 7, 1953 and together they raised their two sons, Michael (Janice) and Stephen. He was the proud "Papa" of Ryan, David, Julie and Cody (Cody's Mom Liz Nickerson).
He got the nickname "Gushie" at a young age and it stuck (we don't know why). He had lots of friends who he shared many laughs with over the years, including those he made while volunteering in his community. He received the Exemplary Service Medal from the Bridgewater Fire Department where he spent 25 + years as a volunteer. He was a Sunday School Teacher and School Superintendent at Holy Trinity Anglican Church, a Member of the Kinsman Club, the Royal Canadian Legion, Acacia Lodge and he received an Honorary Life Membership in the Navy League of Canada. He was appointed Acting Sub-Lieutenant in Her Majesty's Fleet, Royal Canadian Naval Reserve by the then Governor General, in 1970. Having been involved in sports in his youth (baseball and a hockey goalie), he went on to coach baseball to the youth of Bridgewater for many years.
We would like to thank the fine Doctors and Nurses and Staff at South Shore Regional Hospital for their compassionate care.
Funeral arrangements are under the care and direction of Sweeny's Funeral Home, Bridgewater. Memorial donations in Gushie's memory may be made to the Canadian Cancer Society or a charity of choice. There will be a family graveside service at Brookside Cemetery, Bridgewater, at a later date. On-line condolences may be made by visiting www.sweenysfuneralhome.com