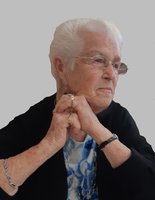 Ruby Geraldine Morton
MORTON, Ruby Geraldine – Age 89, of Watford, Lunenburg County died at home surrounded by her loving family. She was the eldest daughter of Ford R. and Frances E. (Sullivan) Drew formerly of Berwick/Auburn.
She is survived by her husband of 40 years, Waldo Morton; children: Wendy (Gary) Mailman, Bridgewater; Wanda (Brian) Beattie, East Dalhousie; Penny (David) Myler, Canaan; Randy (Della) Ernst, New Germany and Bonnie (Tommy) Meldrum, Mount Uniacke; 14 grandchildren, 2 adopted grandchildren, 22 great grandchildren and 4 great-great grandchildren.
She is also survived by sisters, Audrey Boylan, Berwick and Gayle Smith, Blandford; brothers, Wayne Drew, Porters Lake and David (Elaine) Drew, Auburn; sister-in-law, Fran Drew, Auburn.
She was predeceased by daughter, Geraldine; grandson, Joseph, sister, Gwennie; brother, Reg and infant son, Rickey.
Ruby was born and grew up in Berwick until she got her first job at the telephone company as an operator/dispatcher in Kentville. She later moved to Halifax to be an operator at the VG Hospital switchboard. She came home to Berwick for a short period of time before moving to Farmington and had 7 children with her first husband, Guy Ernst. Their home was the central point for people to visit and she always had extras at the dining room table. Family would arrive with their friends to go hunting. Meals would need to be made and soon she was known for her great cooking! No one left the table hungry! Life was hard for her with 7 children and no running water. She usually had a barn full of animals to take care of too! Many pails of water were lugged from the well across the road. In 1969, she made the decision to leave Farmington with the three youngest children and move back to Berwick for a year. She had to work many housekeeping jobs to keep food on the table but because she was a strong woman, she accomplished this.
In 1970, she moved to Watford to be a housekeeper for Waldo's mom and she fell in love with gentle Waldo! As she said many times, beyond her children and grandchildren, Waldo was the best thing that happened to her.
They enjoyed square dancing, legion dances and farming together. She always had a big meal prepared everyday and was known for her apple pies, doughnuts, mincemeat, homemade bread, baked beans and more!!!
After a few years in Watford, she decided to go to work outside the home. She found a wonderful job at Suttles and Seawinds, as a repair person. She enjoyed all of the friends she met there. Now, most people would get discouraged with having to "fix" issues that others had done, but not her! She took it as a challenge and was very good at it! She was the "person" to go to when you needed something done or fixed! Many hours were spent at her sewing machine doing what she loved to do! She made many quilts and wedding dresses from scratch. She could draw out her pattern, of what she wanted, on brown paper, cut out the fabric and off she would go to the sewing machine!
In later years she also took up silk flower arranging and jewelry making. She had a flair for color and combinations that stood out!!!
The last 15 plus years she was seen frequenting Frenchies and Value Village. She was always picking up something for someone as she said "someone must be able to use this!" She enjoyed also seeing and talking to all of the "frequent shoppers" like herself! She and Waldo would, quite frequently, go to the valley for a visit to Frenchies and the Chinese restaurant that she really liked.
Ruby had a wealth of knowledge on ancestry. Sometimes, you could get lost in the family tree of someone because she knew each and every one of them! Sadly, all that knowledge is gone.
She and Waldo spent 18 wonderful summers at Big Mush-a-Mush Lake. They had an Airstream parked on a private lot overlooking the beach. Later she was joined by her youngest daughter and children in their trailer. Lots of laughs and good times were had. She so enjoyed looking out over the water, with her coffee, first thing in the morning. She would say, "there were many good times with friends at Mush". After, leaving Mush, she would visit with her daughter and son at Sherbrooke Lake. She also enjoyed her time with them with lots of laughter and good food!
She was always grateful and happy to have Waldo in her life. He became not only her husband but the father to her children and 20 plus grandchildren. She enjoyed the early years when they would square dance and go dancing! She and Waldo in later years were known to frequent "music jams" with Mary. It was hard to find them home!
The children would like to say THANK YOU Waldo for being by her side these past few months. You were always there to take care of her needs! For that we THANK YOU. We THANK YOU for loving her!
We, Waldo and the family, would like to thank her family doctor, Dr. Kerry Parker, Dr Debra Gowan and Noleen with Palliative Care for your understanding and awesome treatment of her needs in very trying times. Also, for the quick actions by surgeon Dr. Lucy Helyer and her assistant, Margaret. You were very special to mom.
A Special Thank You to those that were always there for her with phone calls, visits and food: Mary, Connie, Elaine, Cindy, Fran and her family, Durrell and Ginny, and many, many more. We thank you all for making mom feel so very special, as she was.
As per her request, there will be no service. Burial will be held at a later date. No flowers please, donations may be made to the Heart and Stroke Foundation of Nova Scotia, Epworth United Church or the Salvation Army.