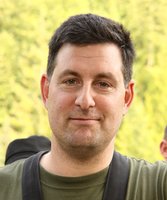 Michael Leigh Webber
WEBBER, Michael Leigh – Age 51, of Petite Riviere, passed away Wednesday, March 17, 2021. Beloved son of Warren Webber and Sheila MacNeil, and son-in-law of Mary Sweeney, and predeceased by Frank Sweeney.
Michael took joy in many outdoor activities especially sailing, ice boating and diving. He loved new experiences and loved the people around him. He delighted in making friends wherever he went. He was always ready to tell a joke and share a funny story. His sense of humor and laugh will be missed.
He excelled in his career as Chief Engineer and Marine Superintendent. Mike was a great shipmate and was well respected by the crews he sailed with and all his business contacts. Michael was very proud of his adventures on board the Polar Prince, which sailed out of Lunenburg. A highlight being an active part with the C3 voyage across Canada.
Most of all Michael was a loving family man. He will be deeply missed by his wife, Marla Webber; daughter, Maranda; sons, Morgan and Mitchell; sisters, Karen Webber, Cindy (husband, Rob) Wilson and Susan (husband, Kevin) Rodger.
Funeral arrangements are under the care and direction of Sweeny's Funeral Home, 35 York street, Bridgewater. A service will be held at a later date. A special thanks to the staff of the SSRH Mental Health Department and the RCMP for all their help. Donations may be made to the Addiction and Mental Health Services of the South Shore, Bridgewater. Online condolences and donations may be made by visiting: www.sweenysfuneralhome.com