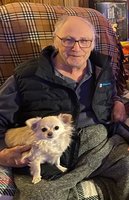 Martin Perry Thomas
THOMAS, Martin Perry - passed away on June 13, 2021 at the age of 82, at the QE11 Health Centre, Halifax, with family by his side. Born in Talara, Peru, June 9th, 1939, he was the son of the late Ralph and Rita (Barnes) Thomas.
Martin will be forever remembered for his compassion and love he extended to everyone who knew him as well as his passion for nature and his love of life. He was always there to lend a helping hand. He was also known to his family as their protector. His greatest treasures in life were his wife, Carolyn of 51 years; and his 3 daughters; and his 7 grandchildren.
At a young age Martin took to the seas. He worked for the coast guard and became their lead diver. He then went on to sail for a short time aboard the gypsum ships. He continued his career as chief mate on ships in CN, Algoma and Imperial Oil which he retired from. He traveled to places all around the world. He later became a commissioner for a few years and worked at Freemans Mill, High Liners food Inc., and Michelin. Martin was an avid amateur radio operator, who's call sign VE1AUZ is known to people all over the world including the astronauts in the space station. He was well known to the community for all his huge antennas that he built from scratch and put up. He did the boys scouts jamboree for years. There he taught the young boys scout all about amateur radio as well allowing them to talk to other boy's scouts from around the world.
He volunteered many years as a spotter for the LaHave River canoe races as well as many bike races throughout different communities. He loved the outdoors and had a love for fishing and hunting. Martin held a record for the biggest bass caught in the LaHave River for a little while. While fishing along the river by his home he took a break laid back onto the grass and just watched the clouds float by and listened to the sounds around him. It was there in that peacefully moment that he found the words to write his poem. He loved all his fishing and hunting trips that he took with his brother and best friend Robert. Martin loved to take trips and explore trails with family and friends on his ATV.
He loved having talks and spending time with his family. In the early years he took his girls on canoe fishing trips down the river, deep sea fishing on his boat, playing yellow submarine game in the river. He took his wife and 3 daughters on many vacations. He taught his 3 daughters all different things, love of life, kindness, hunting, fishing, tying flies, amateur radio and he loved spending time and teaching things to his 7 grandchildren. Martin loved to watch golf and hockey.
He was a devoted fan of the Toronto, Maple Leaf's for many, many years. He was a dear friend to many and will be missed by all. Even though he had many health issues throughout the years he always fought hard and pushed through. Now you can rest easy Martin/Dad/Poppie and go find that special fishing spot for us all when its our time to be together again. We miss you Martin/Dad/Poppie and love you forever.
Martin is survived and forever loved and remembered by his wife, Carolyn; daughters, Liza (Tommy) Selig and their children, Devan and Josh, Bridgewater; Cathy (Scott) Arenburg and their children, Jaden, Justin and Thatcher, Lower Branch; Janet Thomas and her children, Haley and Maddox, Midville Branch. He will be dearly missed by his sister, Devina Reimer, Western Shore; brother, Russell (Zena) Thomas, Middlewood; and sister, Flora (Art) MacDonald, Mahone Bay; as well as numerous nieces and nephews; brothers-in-law and sisters-in-law. Martin was predeceased by his sister, Barbara McKay; brother, Robert Thomas; and brother-in-law, Dwight Reimer.
A celebration of his life will take place at the Bridgewater United Church, Bridgewater on July 20th, 2021 at 2pm. Donations in Martin's memory may be made to a charity of your choice. On-line condolences may be made by visiting www.sweenysfuneralhome.com