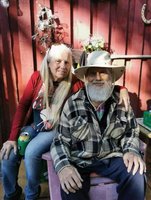 Robert Edwin Lorman
Lorman, Robert Edwin - May 24, 1950- July 6, 2021


Bob Lorman, originally from Quincy, Massachusetts, passed away peacefully July 6, surrounded by loved ones. He is survived by his loving wife Leona (Pemberton), children Teresa (Andy Jensen), Cory (Cari Lorman), Krista (Garrett Bristol), Haley (Matt MacKay) Zack (Miranda Legge), ten grandchildren; Willa, Adwyn, Toren, Ava, Camron, Rylan, Carter, Layla, Ariya and Hannah, his siblings and extended nieces and nephews.

There wasn't much Bob didn't love about life; music, good times, the Bruins, Celtics, Patriots, Red Sox, and his family. Every day was a new opportunity for him to share the things in his life with others. The door was always open, the cookie jar always full and there was always room at the table.

After growing up in Quincy, Bob attended Mass Maritime Academy. It was here that he would first hear about his future home, Nova Scotia, which would capture his heart in more ways than one. In a small coastal community, he met the love of his life Leona. They went on to build an amazing life in his new found home; he never understood why anyone would want to leave what he considered paradise.

Bob leaves behind a legacy of love. He believed that there's a little good in everyone, if you just look deep enough. Lift a glass, have a puff and think of all the times he made you smile.

"Wouldn't it be nice if we could wake up
In the morning when the day is new?
And after having spent the day together
Hold each other close the whole night through

Happy times together we've been spending
I wish that every kiss was never ending
Oh, wouldn't it be nice?

Goodnight, my baby
Sleep tight, my baby
Goodnight, my baby
Sleep tight, my baby" The Beach Boys


The family would like to thank the VON, especially dad's favourite nurse Shelley, as well as the staff at South Shore Regional Hospital. Donations can be made to the VON or your animal rescue of choice in dad's name. Celebration of life to take place at a later date.
Arrangements are under the care and direction of Sweeny's Funeral Home, 35 York Street, Bridgewater, where online condolences can be made by visiting www.sweenysfuneralhome.com.