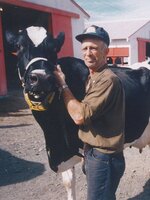 Maurice "Carman" Veinot
Maurice "Carman" Veinot
It is with deep sadness that we announce that Carman Veinot, age 81 of Lapland, passed away peacefully at home on September 9, 2021. Born on August 8, 1940, he was the son of the late Maurice Clinton and Nina Letitia.
Carman is survived by his brother Gerald (Elaine) of Waterloo. He is also survived by uncles and aunts, cousins, and numerous nieces and nephews. He was predeceased by his siblings, Reginald (Georgina) of Waterloo; sister Marilyn of Italy Cross; half-sister Harriet (Lyman) Wile of Waterloo.
Carman spent his life working with his family on the family dairy farm. They raised Holsteins, harvested wild blueberries, Christmas trees, and maple syrup. In the early days they grew several varieties of apples. Carman was always busy working the land and servicing farm equipment. He loved showing the family Holsteins at the South Shore Exhibition. Although it meant double the chores, he considered the week at the exhibition his vocation. In his younger years Carman was a volunteer firefighter in the Lapland Fire Department and a 4-H leader with the Waterloo 4-H Club.
Family would like to thank the support provided by Home Support, Lunenburg County. Carman appreciated the daily care he received, and he always had a smile and a few questions for every Personal Care employee.
Funeral arrangements are under the care and direction of Sweeny's Funeral Home, 35 York Street, Bridgewater. A public memorial service for Carman will be held at the Waterloo Cemetery on Saturday, September 18, 2021, at 2:00 p.m.
In lieu of flowers, donations may be made to the Lapland and District Fire Department or the South Shore Exhibition. Condolences can be sent to patty via email at patriciaclairedaniels@gmail.com