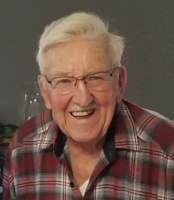 Lemuel Johnson Lohnes
LOHNES, Lemuel "Lemmie" Johnson – Age 94, of New Germany, Lunenburg Co., passed away on Friday, October 8, 2021 in South Shore Regional Hospital, Bridgewater. Born April 7, 1927 in Upper Northfield, he was a son of the late Lemuel Johnson Sr. and Mildred Louise (Milbury) Lohnes.
Lemmie served overseas with the Royal Canadian Navy during the Second World War. Lemmie was a retired independent electrician; a member of Epworth United Church, New Germany; a charter member of the Royal Canadian Legion, Branch 102, New Germany; charter member of the IOOF, New Germany Lodge; and at one time decorated as the longest serving volunteer firefighter in Nova Scotia with the New Germany Fire Department. Lemmie was the last surviving member of his immediate family.
Surviving are his daughters, Mildred Lohnes-Rhodenizer (Willis), Watford; Gwenn Hebb (Darrell), Bridgewater; Ivy Lowe (Richard), Meisners Section; Iris Burke (David), Chester Basin; son, Reid Lohnes, New Germany; step-daughter, Linda Drew, Berwick; grandchildren, Burke Rhodenizer (Sara), Jolani Rhodenizer, Adam Aulenback (Sandrella), April Morris (Matt), Reba Colp (William), Danielle Lowe, and Darius Joudrey; step-grandchildren, Shelley Drew Robertson (Sidney), Darren Drew (Marrianne), Shawn Drew (Laurie); great-grandchildren, Mason, Tucker, Jasmine, Katherine, and Lincoln; step great-grandchildren, Melody, Justin, Devon, Kira, and Lexie; step great-great grandchildren, Scarlett and Lola; many nieces and nephews.
Besides his parents, he was predeceased by his wife, Audrey Lohnes (Veinotte) of 66 years; brother, Walter Lohnes in childhood; sisters, Goldie Mossman, Ethel De Napoli, and Holley Parker Camp.
Public visitation will be from 7-9 p.m., Thursday, October 14 in Sweeny's Funeral Home, 4895 Highway 10, New Germany, where a legion tribute service will be at 7 p.m. A public graveside service will be 2 p.m., Friday, October 15, 2021 in Epworth Cemetery, New Germany, Rev. David Lutes officiating. For your own comfort, consider bringing a chair, masks are mandatory.
In lieu of flowers, donations may be made to the Epworth United Church, New Germany; Parkdale-Maplewood Community Cemetery or to the charity of your choice.
On-line condolences and messages may be made by visiting www.sweenysfuneralhome.com.
COVID-19 / PUBLIC HEALTH NOTICE:
PROOF OF DOUBLE VACCINATION AND IDENTIFICATION IS REQUIRED TO ATTEND THE VISITATION HOURS IN THE FUNERAL HOME AND TO ATTEND THE PUBLIC SERVICE.