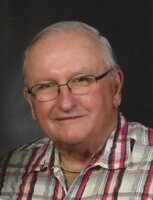 Robert Alexander Joudrey
JOUDREY, Robert A. "Chappie, Bob" Alexander – Age 79, Wentzell's Lake, Lunenburg Co., passed away on Thursday, October 21, 2021 in Yarmouth Regional Hospital, Yarmouth, NS. Born on October 28, 1941, in New Germany, he was a son of the late Robert Clairmont and Annie Mae (Wilson) Joudrey.
Robert made a life as a professional residential and commercial real estate appraiser and entrepreneur for over 45 years, opening his own business with his wife of 54 years, Virginia, in 1977, namely Joudrey Appraisals and Consultants Limited. He had a passion and love for his job and was still working up to the present time. He loved this province he called home especially the South Shore. He knew every road in the county and most of the province by memory - he was a geographical map. Prior to starting his own business, he worked with the Province of Nova Scotia in the Assessment Division and was a teacher on Tancook Island.
He was a parent, then a leader in the local 4H club which turned into him becoming the president of Lunenburg County 4H Council long after his daughter finished the program because of his belief in the community and youth development and often quoted 'Learn to do by doing' in everyday life. He will be remembered as a wonderful man who impacted hundreds of young people's lives in the community. He spent several years volunteering on the South Shore Exhibition Board and organizing variety shows for fundraising activities for youth.
Chappie loved animals, especially gray oxen, horses, dogs and cats. He loved his grand dog, Chloe. He would often take her as supervisor when he appraised properties.
He loved being in the outdoors and in the woods with his Massey tractor often cutting his own wood or cutting brush. He loved Christmas trees and would often spend hours with his daughters looking for the perfect tree. He loved being at the family farm in Pinehurst from making hay to feeding the animals or just looking out over the fields and taking in the views. He loved his home, his apple trees, shrubs and flowers.
Family meant everything to Chappie. He loved and supported his family which was prevalent in the many hours he and Jinny would spend with their daughters from everyday tasks to following their dreams and passions within life; horses, education, careers or opening a restaurant.
He loved to travel, camp and snowmobile. He would reminisce and laugh about the many adventures and stories over the years. In later years he had a motor home, but he always loved his 1978 Bronco. He enjoyed the sport of hockey either playing it in younger years to watching it on television.
He often talked about his time working in the cookhouse at the Mersey. He loved his food, but some of his favourites would be seafood, lobster, raw sauerkraut, hodgepodge and Jinny's potato salad.
He was a man of resilient quiet strength with a kind soul, soft tone, listening ear and an amazing generous heart. He was a well respected individual both professionally and personally and was an incredible and supportive husband, father, man, friend, mentor and father figure to many through the years.
Some of his lasting quotes were "Keep your stick on the ice", "let's get r done" and "everything will work itself out".
He will be missed by so many. You will always be remembered and forever in our hearts.
Surviving is his wife, Virginia Grace (Feener); daughters, Annette Joudrey (Ryan); Jeanette Joudrey (Glenn); sister, Audrey Zwicker; sister-in-law, Cathy Spidle (Terry); special niece, Wendy and several other nieces and nephews; grand-dog, Chloe. Besides his parents, he was predeceased by brother, Charles "Chummie" Joudrey.
No visitation by request. A private family graveside service will be held in Pinehurst Community Cemetery, Pinehurst. Rev. Judi Philips officiating. Family flowers only, donations may be made to the Lunenburg County 4-H Council; New West Pine United Church, Pinehurst Community Hall or charity of choice. A public Celebration of Life will be announced at a later date. Arrangements entrusted to Sweeny's Funeral Home, 35 York Street, Bridgewater, where on-line condolences and messages may be made by visiting www.sweenysfuneralhome.com.
We would like to thank the paramedics, doctors and nurses at South Shore Regional Hospital and a special thank you to the ICU staff at Yarmouth General Hospital.