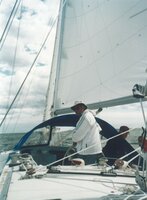 Walter Soestmeyer
SOESTMEYER, Walter – (Boatbuilder Extraordinaire) of Chester, NS. Age 83, died peacefully in his wife's arms on October 25, 2021 at the South Shore Regional Hospital, Bridgewater, after a short illness. Walter will be sadly missed by his family, friends and "old faithful" Duke.
Born in Leiden, Holland, he was a son of the late Walter Sr. and Anna (Braun) Soestmeyer and predeceased by brother, Heinz Albert (Bonnie). He is survived by his loving wife, Sheila (nee Clark) "First Mate".
Sharing in her grief are Sheila's step-children, Anita Wray, Carl, and Carla Nikkanen, Ontario; Eric, BC and their families; brother, Geoff Clark (Jan) and sister-in-law, Janice (John Clark, deceased) of England and families; cousins, Christa Goss, Ontario; Karen Rave-Kemmer (Thomas); Helma Springmeyer (Walter) and families; Soostmeyer's in Germany and Brazil. Donations may be directed to Palliative Care, South Shore Regional Hospital Foundation towards a second "Cuddler" Comfort Bed or charity of your choosing.
Final arrangements have taken place at Sweeny's Funeral Home, Bridgewater. A Celebration of Life to follow at a safer time. On-line condolences may be made by visiting www.sweenysfuneralhome.com
"Fair winds and following seas in your final journey"