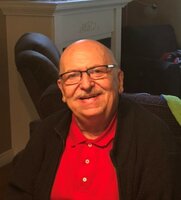 Donald Borden Berrigan
BERRIGAN, Donald Borden - It is with great sadness that we announce the passing of Donald Borden Berrigan, age 75, of Pleasantville, surrounded by his loving family on November 17th, 2021 at the South Shore Regional Hospital, Bridgewater. Donald is survived by his loving and devoted wife of 52 years, Gwen; his beloved son, Donnie (Annette); his pride and joy, granddaughter, Sophie (Colin); brothers, Delbert (Mary) Tumblin; Wayne (Elizabeth) Tumblin; sisters-in law, Mary Tumblin, Patsy Lohnes, Heather Gregory, Nancy Johnson, Elizabeth Tumblin; many nieces and nephews. He was predeceased by his mother, Seabelle Tumblin; his "Gram", Olive Berrigan; brother-in-law, Rocky Lohnes.
He worked for many years at building supply stores in the Bridgewater area as a paint specialist. He was an avid reader of military history, he enjoyed painting landscapes and giving the paintings to his family. He was a "Mr. Fix It" and had special glue and polish for everything! He enjoyed a good game of Scat but often displayed his competitive side and trying to sneak a peak at other players hands! He loved a good joke and could repeat it without fault! He was fond of German Shephard's and had a special bond with all his dogs! Children were drawn to him, and he loved to tease all the little ones in his life! He enjoyed going out for breakfast on Saturday mornings with Gwen and loved when Sophie could tag along!
In October 2000, he underwent a heart transplant which gave him the gift of 21 years! This allowed him to see his granddaughter graduate high school and meet his grand nieces and nephews. He was able to enjoy many trips across the ferry and bridge to PEI to visit family and special day trips. He enjoyed celebrating this anniversary every October with a special restaurant meal with his family! He loved his family more than anything and especially enjoyed Christmas morning at his son's house!
There are so many people to thank for all the support received throughout Donald's illness. Special mention to Patsy Lohnes and Arla Rafuse for supporting Gwen while Donald was admitted to the Victoria General Hospital in Halifax. Thank you to the staff entrusted to Donald's care at the VGH as well as the doctors, nurses and ambulatory attendants at the South Shore Regional Hospital. Special thank you for the compassionate care of Dr. Annette Harris and RN's BreAnne and Liz and the rest of the staff on the 3rd floor. Everyone was so kind and went above and beyond for Donald, Gwen and the rest of his family.
No visitation at the funeral home by request. Funeral service will be held on Saturday, November 27, 2021 at 2 p.m. in Sweeny's Funeral Home, 35 York Street, Bridgewater, Rev. Sam Jess officiating. A burial will follow in the Pleasantville Cemetery, Pleasantville. Due to COVID-19 Regulations, proof of double vaccination with I.D. and wearing a face mask is required. In lieu of flowers, memorial donations may be made to Soul's Harbour, Bridgewater, Heart and Stroke Foundation of Nova Scotia, Canadian Cancer Society or charity of choice.. Funeral arrangements entrusted to Sweeny's Funeral Home, 35 York Street, Bridgewater, where on-line condolences may be made by visiting www.sweenysfuneralhome.com