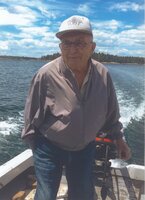 Parker St. Clair Himmelman
HIMMELMAN, Parker St. Clair – Age 93 of Bell's Island. It is with great sadness that we announce the passing of Parker St. Clair Himmelman, in South Shore Regional Hospital, Bridgewater, on November 28, 2021. Born February 27, 1928, he was the son of the late Angus and Florence (Hirtle) Himmelman, he lived his entire life in the home where he was born. He raised his family there and was lucky enough to maintain his independence until a brief illness took him to hospital.
Parker spent his working life as an inshore fisherman until his retirement at age 72. He considered a good day to be one spent on the water in his boat. After that he decided to try his hand at a vegetable garden where he was delighted to share his harvest with family and friends. Some of Dad's best memories were of traveling, playing a game of cards, spending time with his many friends, or simply going for a drive in his car. He shared these good times first with his wife of 49 years, Helen, until her passing; and later with his companion, Marjorie, until she passed also. He will be fondly remembered as a kind, generous and fun-loving man and will be missed by many.
Parker is survived by son, Melvin (Sandra) Himmelman, LaHave; daughters, Susan Himmelman, Bridgewater, and Barbara Harlow, Bridgewater; grandchildren, Mark, Michael, Shawn and Megan Himmelman and Carla Hatt; as well as six great grandchildren. Besides his parents, he was predeceased by his wife, Helen; son, Wendell; companion, Marjorie Loughead; grandson, Joel Hatt and son-in-law, Rob Harlow.
Arrangements have been entrusted to Sweeny's Funeral Home, 35 York St., Bridgewater. There will be no visitation by request. Funeral service will be held on Tuesday, December 14 at 1:00 pm at St. John's Anglican Church, West Dublin with Rev. Oliver Osmond officiating. Due to Covid-19 protocol, proof of vaccination, proof of I.D., and masks are required to attend the funeral service at the church, as well as the burial. Interment will follow immediately at Brookside Cemetery, West Dublin. Family flowers only. In lieu of flowers, memorial donations may be made to the Heart and Stroke Foundation of Nova Scotia, Health Services Foundation of the South Shore, or a charity of choice. On-line condolences and messages may be made by visiting: www.sweenysfuneralhome.com.
We, the family of Parker Himmelman, wish to extend our most sincere thanks and appreciation to the doctors and nursing staff of the 4th floor acute medical unit at South Shore Regional Hospital for their exceptional care and support of our father during his illness.