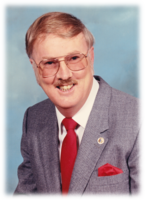 Perley Nelson Tidd
TIDD, Rev. Perley Nelson – Rev. Perley Tidd was born on July 3, 1934 at Seal Cove, Grand Manan Island. Perley was the 4th son and 7th child of James and Florence Tidd. His parents moved to Black's Harbour in 1942 and later to Beaver Harbour in 1946. Perley Graduated from Black's Harbour High School in 1951. Very shortly thereafter, he gave his life to Jesus Christ and was baptized in the ocean at Beaver Harbour, New Brunswick. Perley attended London Bible Institute and Theological Seminary, London, Ontario from 1953-1955.
Upon completion of Bible Studies, he accepted a call from the Atlantic United Baptist Convention to serve 6 small congregations in New Canada, Lunenburg County, Nova Scotia. Perley met and married Marlene Eisener of Barss Corner, Nova Scotia in 1957 and they eventually had 6 children, Stephen, Joel, Joanna Joy, Aaron and Andrew (Twins), and Florence Gracie.
Perley graduated in 1967 from Acadia School of Theology (Acadia Divinity College) with a B.Th. degree and later in 1981 from Acadia University with a B.A. degree. Perley was predeceased by his parents, James and Florence Tidd; son, Aaron Charles Tidd; three brothers, Theodore, Martin (Wally), and Llewellyn; three sisters, Bernice, Wilma, and Melba. He is survived by one sister, Noreen. What a close and warm-hearted family we were.
Perley served the Lord Jesus Christ for 66 years, in the Gospel Ministry. Among the churches he has served were Temple Church, Barrington; Port Hawkesbury; and St. Margaret's Bay in Nova Scotia; Minto, Black's Harbour and Berry Mill-Steeves Mountain in New Brunswick; and Forest, Ontario.
He served as Evangelist in Chipman, Beaver Harbour, Norton and Dorchester, New Brunswick; Black River and Pugwash, Nova Scotia. He met a friend, Pastor Wayne Kuhner from Ashland, Kentucky, U.S.A. and served twice there as Evangelist at Wildwood Baptist Church.
He married his son, Stephen in Chilliwack, British Columbia and baptised his granddaughter, Stephanie in Colorado Springs, Colorado. For the last 11 years he served the wonderful, small congregation of friends in Port Mouton, Nova Scotia. Perley would like to thank the Lord Jesus Christ for the amazing and blessed life he has granted him and for the numerous and special friends we have made. What a wonderful Lord!
Funeral arrangements are under the care and direction of Sweeny's Funeral Home, Bridgewater. A private family service and burial will be held. On-line condolences may be made by visiting www.sweenysfuneralhome.com