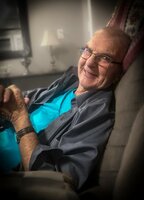 Robert "Bobby" Earl Smith
ROBERT E. SMITH
SMITH, Robert "Bobby" Earl
October 15, 1934 - December 6, 2021
It is with great sadness that we announce the passing of our sweet, beloved, husband, father, and grandfather, Robert "Bobby" E. Smith, who passed away peacefully at home on December 6th, after 87 years of a life well lived.
Bobby was born and raised in Liverpool, Nova Scotia to Hazel and Joseph Smith and was one of eight siblings. At a young age his wandering spirit led him to serve in Korea for The Canadian Armed Forces. After serving 5 years, he left the service and began working in Montreal where he would later meet the woman who would become his wife, Josephine MacDonnell (of Cape Breton). He and Josie then went on to have three children: Millard, Terry, and Josephine.
Bob was a jack of all trades. He owned several businesses, worked for fisheries, helped build bridges and even spent some time with a circus in Montreal, but he took the most pride in his time as a Prospector in the Yukon for almost 35 years. It was his time as a sandhog that damaged his hearing resulting in his signature loud voice that boomed whenever he saw one of his many friends.
Bob cherished time with his family, and was often found scratching tickets, or reading the newspaper at the local coffee shops. He spent many hours on the road, especially when they led him to the multiple casinos across North America and was a known fixture at Diamond Tooth Gerties in Dawson City for many years. Bob had a love for nature and his desire to be in the wilderness and passion for geology took him across Northern Canada.
One of his greatest accomplishments in life was helping raise his granddaughters, where he was known throughout the community to be the best "Soccer Grandpa" around. He took delight in being the go-to chauffeur for the kids throughout their school years. He was a friend to anyone he met, and he had countless that spanned all ages and walks of life from across the globe. Bob had a big heart and he never left the house without his "charisma".
Bob is survived by his wife Josie Smith of 57 years; sister, Joan Grant and brother, Terry of Liverpool, Nova Scotia; his children Millard (Janene), Terry, and Josephine; grandchildren, Jennifer, Kaitlyn, Alyssa, Stephanie, Kevin, Brandon, Karen MacDonald, Rebeka (Brandon Macdonald), and Jessica Christensen; his ten great-grandchildren, as well as his many nieces and nephews, and many more who considered him their "Grandpa Bob", too.
Bobby was a dreamer to his last day who exuded warmth and humour. He will be dearly missed. We love you, Grandpa.
There is no celebration of life planned at this time, but the family would be pleased to receive memories/messages at GrandpaBobbySmith@gmail.com. Contributions in Bob's honour to the Canadian Cancer Society would be appreciated.