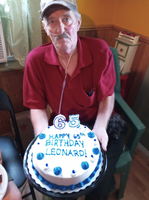 Leonard Carroll Burgoyne
BURGOYNE, Leonard Carroll – Age 65 of Springfield, passed away on December 11, 2021 at home surrounded by his loving family. Born in Bridgewater, he was a son of the late Donald and Lona (Whynott) Burgoyne.
Leonard is survived by his loving partner, Amanda Robar; daughters, Natasha (Davey) Burgoyne, New Germany and Shawna (Mitchell) Cress, Digby; sons, Ryan (Erica) Burgoyne, Liverpool; Grant (Caitlin) Burgoyne, Yarmouth; Brandon Cress, Digby; stepsons, Austin Robar, New Germany and Dexter Robar, Alberta; sisters, Linda (Arden) Sproule, Springfield; Susan (Colleen) Daniels, Waterloo; Kim Burgoyne, New Germany; Christene (David) Whynott, Meisner Section; brother Ross (Anne) Burgoyne, Cherryfield; 13 grandchildren; many nieces and nephews. He was predeceased by his brothers, Brian and Roland.
Funeral arrangements are under the care and direction of Sweeny's Funeral Home, New Germany. Donations in Leonard's memory may be made to the Canadian Cancer Society or a Charity of Choice On-line condolences may be made by visiting www.sweenysfuneralhome.com