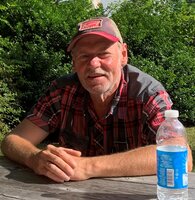 Martin John Glenn
GLENN, Martin John – Age 61, Martin passed away on December 25, 2021, in the South Shore Regional Hospital, Bridgewater. Born in Minto, N.B., he was the son of the late, John and Verna (Hopkins) Glenn.
Martin was known as a man of few words, but if you needed to know something, he was the man to ask. He loved his family very much and was very close to his siblings throughout his life. Martin was a dedicated Christian, loved hockey, hiking, and drinking Tim Horton's coffee. He was a very hard worker and enjoyed the time working on his own as an appliance technician for many years. When Martin wasn't working, he enjoyed spending his time with his wife, Flo.
He was the type of person to always reach out and help those in need and would often put other's needs before his own. He was always known as a bit of a loner, but if you needed help with anything, he was always right there to help you out. Martin was a great listener and cared deeply for his wife and children. Martin loved the company of animals and enjoyed walking in the woods where it was peaceful. Martin loved running his own business and was a very independent businessman.
Martin is survived by his wife, Florence; children, Melody Glenn, Bridgewater; Jonathan Glenn (Lindsey), California and, sister, Caroline (George) Bailey, Maquapit Lake, N.B.; brothers, Dennis Glenn (Charlotte), Chipman, N.B., Kirkland (Gwen) Glenn, Chipman, N.B. He was predeceased by his parents; sister, Bonnie Glenn-Bailey and brother, Lionel Glenn.
Arrangements have been entrusted to Sweeny's Funeral Home, 35 York St., Bridgewater. There will be no visitation by request. A private family Funeral Service will be held in Sweeny's Funeral Home Chapel, Bridgewater, with son, Jonathan Glenn officiating the service. Interment will follow immediately at Barss Corner Community Cemetery, Barss Corner. Flowers will be accepted by the family, but in lieu of flowers, memorial donations may be made to your local Food Bank. On-line condolences and messages may be made by visiting: www.sweenysfuneralhome.com.
John 3:16
For God so loved the world that he gave his only begotten son that whosoever believeth in him will not perish but have everlasting life.
We his family know he can now rest from his labours, and he is forever safe in the arms of his Saviour, Yeshua (Jesus) the Messiah of Israel and the light of the world.
We Love you and we'll miss you Martin.
To Livestream the Celebration of Life, please complete the two-step registration process by clicking on the following link:
REGISTER FOR: LIVE VIDEO STREAM OF MARTIN GLENN'S SERVICE