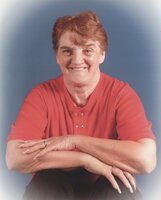 Sandra Conrad
Conrad, Sandra – Age 76 of Upper LaHave, passed away January 5, 2022, in South Shore Regional Hospital, Bridgewater. Born January 13, 1945, she was a daughter of Nellie (Dorey) Feener and the late, Cecil Feener. Sandra loved going to bingo where she made a lot of friends and loved spending time with her family. She is survived by daughters, Kathy Lynn Oickle, Maitland; Wendy Conrad (Gordon Myra), Western Shore; son, Ronnie Jr. Conrad (Lisa Higgins), Newcombville; sisters, Evelyn (Charlie Baker) Feener and Louise Sutton; grandchildren, Mark, Ryan, Lucas, Jacob, and Jessica. She was predeceased by her husband, Ronald; father, Cecil; sister, Shirley; brothers, Lester, Roger, and Paul.
In lieu of flowers, donations in Sandra's memory may be made to S.H.A.I.D Tree Animal Shelter, Bridgewater. Arrangements entrusted to Sweeny's Funeral Home, Bridgewater where on-line condolences may be made by visiting www.sweenysfuneralhome.com
I Never Saw Your Wings
By an Unknown Author

How is it that I never saw your wings
when you were here with me?
When you closed your eyes and soared
to the Heavens I could hear the
faint flutter of you wings as you left.
Your body no longer on this side
your spirit here eternally I see your halo shine.
I close my eyes and see the multi-colored wings
surround me in my saddest moments and my happiest times.
Mother my angel God has given you your assignment
always my mother forever my angel.
You fly into my dreams and when I am asleep
I feel your wings brush against my face wiping away
the tears I shed since I can no longer hold
you in my arms but in my heart.
You earned those wings dear mother
and you will always be me angel eternal.