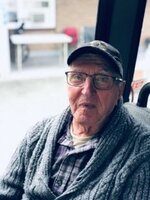 Charles Alpin Lohnes
LOHNES, Charles Alpin - passed away at Queens Manor on January 8, 2022, at the age of 93. Born on February 22, 1928, in Upper Northfield, Charles was the second of 13 children born to Foster and Florence (nee Bolivar) Lohnes.
He was predeceased by his wife, Ruby (nee Dauphinee). Charles is survived by his children, Franklin (Michelle), Alice (Robbie) and Susan (Brian); grandchildren, Lori (Mike), Donna (Shawn), Christian (Bayleigh) and Josh (Rachelle); and great grandchildren, Tyler, Hailey, Bodhi, and Bradley.
Dad was a hard worker all his life. He was a carpenter by trade who helped his family with building everything from houses and garages, renovations, to building furniture and picture frames. Whenever one of us needed help, Dad was there until the job was done. Watching him walk across the open rafters of a house roof was amazing. For years, he raised animals on the farm before and after working a full day and taught his family how to plant a garden, how to look after animals, how to milk a cow, how to build a house and so much more. He had a quiet patience when he was teaching you something new. He could do math in his head quicker than you could pull out a calculator and he could always figure out ways to make something work. Above all, Dad taught us the value of a good work ethic and determination. With that, you can accomplish anything. One of Dad's favorite things in his younger days was fly fishing for salmon on the Lahave River and was a long-time member of the Lahave River Salmon Association. He was also an honorary lifetime member of the Northfield and District Volunteer Fire Department. More recently, Dad's favorite thing was going for drives in the car with Franklin. Many thanks to the kind people at Queens Manor, and to the doctors, nurses and staff at South Shore Regional Hospital, and Queens General Hospital during his stays there over the last few years.
Cremation has taken place. There will be no service at Dad's request. Memorial donations can be made to the South Shore Regional Hospital, Queens Manor, SHAID, or charity of choice. On-line condolences may be made by visiting www.sweenysfuneralhome.com