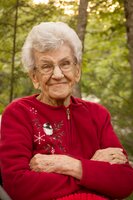 Viola Mae Blackadar
On Wednesday, January 5th, 2022, Viola Mae Blackadar, loving wife, and mother of three, passed away at the age of 95 at the North Queens Nursing Home.
Viola was born February 15, 1926, in Branch Lahave, Nova Scotia to Edgar and Beulah (Young) Bolivar. At a young age, she started cleaning for other families and later had worked at a fish plant and the Bridgewater Hospital. On January 24, 1942, she married Raymond Theodore Blackadar and they went on to have three sons, Harry, Anzil and Robert.
Viola had many interests, some being gardening, playing cards, crocheting, knitting, and baking. She was an active woman throughout her entire life, often dancing, bowling, and travelling with Raymond. Most who met her would be amazed by her energy and youthful looks. She loved her family, most of all her grandchildren and great-grandchildren.
She was preceded in death by the love of her life Raymond; father Edgar; Mother Beulah; sisters Verlie Arenburg and Violet Croft; brother Elwood; brother in laws Wendall Croft, Boyd Rand and Basil Arenburg; son Robert (Bobby) and granddaughter Seamone.
Viola is survived by sister, Valarie Rand; brothers, Edgar Jr. (Bertha), Earl (Dorothy), Eldridge (Joan) and Ernest (Elizabeth); sister-in-law, Janet; children, Harry (Diane) and Anzil (Susan); grandchildren, Kelly (Scott), Neil (Allison), Darren (Tracey) and Natalie (Corey) Conrad; great-grandchildren, Mackinley, Mackenzie, Alysha, Jason, Jenna and Deirdre; daughters-in-law, Darlene Blackadar and Donna Blackadar and partner Frank Rafuse.
Arrangements have been entrusted to Sweeny's Funeral Home, 35 York Street, Bridgewater. Memorial service to be announced. Donations may be made to Canada Cancer Society, Heart and Stroke Foundation or a charity of choice. Online condolences and donations may be made by visiting www.sweenysfuneralhome.com.