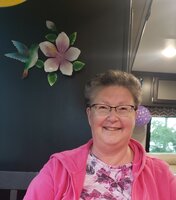 Mary Ann Guest
GUEST, Mary Ann - We are greatly saddened to announce the sudden passing of Mary Ann Guest (Himmelman) age 65 of Pleasantville on March 17, 2022 at the South Shore Regional Hospital, Bridgewater. She was the daughter of Pauline Himmelman Richard and the late Steadman Harold Himmelman. She was the wife and beautiful companion to Frank Guest and loving mother to Amanda (Owen Wentzell) and Jonathan Guest; sisters, Betty Lou Himmelman (Yvon Cormier) and Bonnie Lee (Terry Wamboldt).
Mary Ann graduated from Hebbville Consolidated High School and pursued her dream of becoming a Health Care Provider. During this time, she was a cashier at the IGA grocery store and a beloved babysitter to the neighborhood children. She received her certificate as a Certified Nurses Assistant at Bridgewater Vocational School and was employed at the South Shore Regional Hospital. She greatly enjoyed her career and was liked by all her peers but retired in 2005 to spend more time with her loved ones.
She married Frank William Guest in a beautiful ceremony on June 26, 1976 and took up residence in Pleasantville near her parents. She became a caring mom of two beautiful children and was very involved in all aspects of their lives. She became a Beaver Leader at St. Paul's Evangelical Lutheran Church, Bridgewater and inspired the youth of today.
Mary Ann was an active member of the Ascension Lutheran Church, Conquerall Mills where the family always took up the front pew. Later she transferred to St. Paul's Evangelical Lutheran Church, Bridgewater where she enjoyed singing with the Celebration and Praise Choir (spending many hours picking songs) and attended Bible study classes. Mary Ann belonged to the Worship and Prayer Committee and participated in the readings at services.
She enjoyed relaxing with a Harlequin Romance novel and liked walking on the many beaches taking in the sea breeze. Shopping on-line was a passion of hers even though she sometimes got excited and added too many of the same items in her shopping basket.
She will be greatly missed by family, friends, and neighbors as she was compassionate person who was always willing to help and comfort those in need. She was an animal lover and will be missed by her beloved companion Kush, who visited her daily for a cuddle and treats. She loved her four grand cats who she cats sat often and it proved to always be an adventure. In lieu of flowers the family has requested donations be made to St. Paul's Evangelical Lutheran Church, Bridgewater or a charity of your own choice.
A visitation will be held at Sweeny's Funeral Home, 35 York Street, Bridgewater on Monday, March 21 from 2-4 and 7-9 p.m. A funeral Service will be held at 2 p.m. on Tuesday, March 22 in St. Paul's Lutheran Church, Bridgewater followed by a graveside burial at the Ascension Lutheran Church, Conquerall Mills. Mask are required to be worn. The service will be available for online viewing through St. Paul`s Lutheran Church, Bridgewater. The family would like to express special thanks to Pastor Paul Jenson, members of the Celebration and Praise Choir, the ER Staff at South Shore Regional Hospital for everything they did for the family and to all the many friends who have reached out in our time of sorrow. On-line condolences may be made by visiting www.sweenysfuneralhome.com