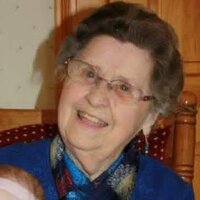 Norma Hyacianth Corkum
CORKUM, Norma Hyacianth – It is with heartfelt sympathy and sadness that the family of Norm Hyacianth Corkum announces her passing on Monday, May 9, 2022. She will be forever in our hearts and will be missed by all of us. Her favourite bible verse was John 3:16 "For God so loved the world that he gave his only begotten son, that who so ever believeth in Him should not perish but have everlasting life." Her favourite hymn was "Just A Closer Walk With Thee."
Norma was the daughter of the late Bessie and Wilson Croft. Along with her parents, Norma was predeceased by her first husband, Peter Mur of 27 years and their son, Paul; her second husband, Cecil Corkum of 43 years and brothers, Maxwell, and Douglas Croft.
Norma dearly loved her church and the church family that took her under their wing. She spent many hours playing the piano/keyboard and singing. Her sense of humor was catching, and everyone enjoyed the laughter she created. Her past times were knitting, sewing, and quilting. She enjoyed her visits from her daughter, Tina and her niece, Barb, and Jim Stanley. She was very thankful for those who came to visit her almost daily to help with whatever she needed done around the house or yard and for those who brought her goodies. Norma was an excellent cook: she was always prepared for company, and no one ever left her home hungry. Family and friends meant so much to her.
Norma leaves behind to mourn her daughter, Tina; stepchildren, Catherine (Keith) Dagley, Paul Corkum, Janice (Allen) Sperry and Peggy (Rex) Frank; also, nieces, nephews, grandchildren and step-grandchildren.
Cremation has taken place at her request under the care and direction of Sweeny's Funeral Home, 35 York Street, Bridgewater. In lieu of flowers, donations may be made to SHAID Animal Shelter, Canadian Cancer Society, VON or a charity of your choice.
A visitation will be held on Tuesday, May 17, 2022, from 7-9 p.m. in Sweeny's Funeral Home, Bridgewater. A Celebration of Life for Norma will be held on Wednesday, May 18, 2022, at 2 p.m. in the Funeral Home Chapel, Bridgewater, officiated by Rev. Phil Locke and Rev. Mitchell Foley. Mask are required for both visitation and Celebration of Life. A reception will follow the service at the Pleasantville Baptist Church. On-line condolences may be made by visiting www.sweenysfuneralhome.com.
CELEBRATION OF LIFE ON-LINE STREAMING
The Celebration of Life Service for Norma Corkum will be available by live-streaming.
Do you have a photo of Norma you would like to share with the family? Upload them to the Forget Me Not Ceremonies live stream page to share with those attending virtually.
and complete the two-step registration process.
Camera will be live at 1:55 p.m., - 5 minutes prior to the service.