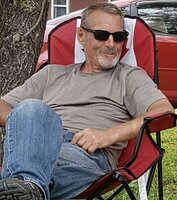 Wade Wayne Selig
Selig, Wade Wayne – Age 69 of New Germany, formally of East Cliford, passed away peacefully at home on May 11, 2022. Born June 4, 1952, Wade was the son of the late Mervin and Doris (Beck) Selig, East Clifford. Wade was the father of three daughters, Elaine (Justin) Flemming, New Minas; Sherry (Sandy) Arenburg, Upper Northfield; Rena (Adam) Selig, New Germany. Also surviving are brothers, Norman (Vivian), David, Vaughn, Wayne (Carmel), and Kenton; sisters, Betty, and Diane. He was predeceased by brothers, Douglas, and Kendall. He had three grandsons, Austin, Izaiah and Noah; many nieces and nephews.
Dad started his career at Bowater papermill, then moved on to deep sea fishing. He loved working and doing odd jobs outside. Most of his life he moved around picking up odd jobs and making new friends and memories along the way. He lived by the seam of his pants, we always told him he needed to settle.
In 2018, he suffered a severe stroke, and went into a coma. After endless weeks, he woke up and wanted to pick up right where he left off, still wanting to be on his own, and he did, just at a much slower pace. We were very lucky to have Dad settled in one spot the last four and a half years, just to bring us all closer together. We thank God for the time he has given us with Dad, before taking him away to be an angel. I told him that mom would meet up with him and he had to take good care of her too.
His wish was not to have a service. Memorial donations in Dad's name may be made to the Canadian Diabetes Association or the Canadian Cancer Society.
We would like to thank the awesome palliative care team and doctors. Paula Saile has been so good to our family with the passing of two parents in a short time, and for all the help that was given to us so Dad could remain in his home, with family by his side, during his passing. Arrangements entrusted to Sweeny's Funeral Home, New Germany where online condolences may be made by visiting www.sweenysfuneralhome.com