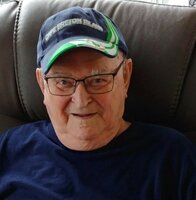 Bronson Dicks
CAPTAIN BRONSON DICKS - It is with profound sadness that the family of Captain Bronson Dicks, age 93, of Bridgewater, announces his passing on Monday, May 16, 2022 at Hillside Pines, Bridgewater. Bronson was born in North Sydney, Nova Scotia. He was the son of Warren and Muriel (May) Dicks.
Bronson was a devoted husband for 66 years and missed Evelyn with all his heart for the last 5 years. His children, grandchildren and great-grandchildren were the light of his life and he loved to tell people just how many he had.
Bronson started his employment as a stevedore with CNR at the ferry terminal in North Sydney. In the late sixties he and the family moved to Lunenburg where he went to work on scallop draggers. He started as a cook in the galley but did many different jobs on the scallop draggers. He eventually went to navigational school in Pictou and earned his Captains papers. In the early seventies he captained a scallop dragger in Alaska to teach the crew how to fish scallops like they did on the east coast. When he returned, he continued to fish out of Lunenburg until medical issues caused early retirement. He and Evelyn moved to Halifax for several years where he and Evelyn met some lovely people who they held very dear to their hearts even after moving back to Bridgewater.
Bronson and Evelyn were Boy Scout leaders, and he also coached baseball and hockey. He loved playing Bingo and scratching lottery tickets. He was an avid fisherman and loved to hunt and truly enjoyed his many hunting trips with family and friends. He was a Boston Bruins fan all of his life and loved the Halifax Mooseheads as well. When the Bridgewater Lumberjacks came to Bridgewater he held season tickets every year they were here and was their number one fan. He enjoyed these games immensely and especially enjoyed the fact that his children, grandchildren and great grandchildren enjoyed the games with him. He was loved and respected by many of the players and left a lasting impression on them long after hockey.
Bronson is survived by his children, Ralph (Gail) Dicks, Bridgewater; Ellen McCarthy, Midville Branch; Joseph (Shirley) Dicks, Lower Branch; grandchildren, Andrea (Victor) Whalen, Jeffrey Crouse, Daniel (Michelle) Wile, Adam (Danica) Dicks, Lucas (Alyssa) Dicks, Chris (Ashley) Cruickshank, and Andrew Comeau; great-grandchildren, Drew, Madison, Emma, Ethan, Wesley, Shianne and Benjamin. He is also survived by his brother, Chesley (Josephine) Dicks; and many nieces and nephews. He was predeceased by his parents; his sisters, Clara and Ellen; and sons-in-law, Andrew Crouse and Bruce McCarthy. There will be no visitation or service at his request. Donations may be made to The Heart and Stroke Foundation or a charity of your choice.
The family would like to extend a warm thank you and gratitude for the amazing love and care Bronson received while a resident of Hillside Pines. You are caring beyond what words can express. Thank you also to Dr. Everett Weagle who has always provided the best care possible and always made himself available to the family. Your care and support for Bronson and our family will never be forgotten. Funeral arrangements are under the care and direction of Sweeny's Funeral Home, Bridgewater. On-line condolences may be made by visiting www.sweenysfuneralhome.com