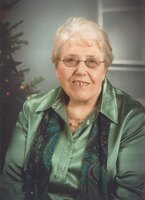 Rosalind (Rosie) Evelyn Leopold
LEOPOLD, Rosalind (Rosie) Evelyn – Age 81 of Bridgewater, passed away in Hillside Pines Home for Special Care, on June 22, 2022.
Rosie was always very outgoing and loved interacting with her friends in the nursing home. She enjoyed dancing, singing with the Bluebirds and the Hillside Pines choirs, crafts and fancy work (embroidering pillowcases and rug hooking), and bus outings, especially going shopping at the "Dollaramie" (as she would say) with Gena. Rosie loved flowers and butterflies, her fancy jewellery, getting her hair and nails done, and enjoying some "diet chips", ginger ale, and sugar-free candy. Rosie loved spending time with her kitties, Sally and Susie. Rosie would often be seen doing her daily visits to check on Gena, Cecil and Heidi, putting on her nice, pink lipstick or the many cherry lip balms she had, and you may have heard her say one of her favourite sayings, "Cecil will know, he takes care of things, he helps us".
Rosie will be survived by Johnny, Angie, Bailey, and Nathan, of Pinehurst; brother, Arnold Leopold, of New Ross; nieces and nephews; special friends, Roxie, Lisa, and all of her Hillside Pines family. She is predeceased by her parents, brothers, sisters, and her friend, Lorraine.
A private family memorial service for Rosie will be held, Sunday, June 26, 2022, with Rev. Fran Boutlier officiating. A public burial committal will follow in New Ross Anglican Cemetery, New Ross, following the private memorial service. No flowers by request, but in lieu of flowers, public donations may be made in Rosie's memory to SHAID Tree Animal Shelter or Hillside Pines Home for Special Care, Bridgewater. Special thank you to her Hillside Pines family, Dr. Weagle and Nurse Practitioner Matt, for all your love, kindness, and compassion. Arrangements entrusted to C.F. Sweeny's Funeral Home, 35 York St., Bridgewater.
"Family isn't always blood. It's the people in your life who want you in theirs; the ones who accept you for who you are. The ones who would do anything to see you smile and who love you no matter what"