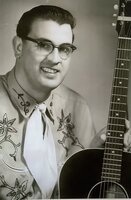 Loran Wilfred Baker
BAKER, Loran Wilfred - Age 85, of Farmington, Lunenburg Co., passed away peacefully at home on Tuesday, June 28, 2022. Born in Farmington, he was a son of the late, Orman and Louetta (Crouse) Baker.
He is survived by wife, Irene; sons, Kenton (Betty), Bridgewater; Marty (Lisa), Greenwood; Dwayne (Patricia), New Germany; daughter, Connie (Barry) Reinhardt, Lower Branch; grandchildren, Ryan Baker, Sarah Reinhardt; great grandchild, Trenton Baker; brother, Carmen, Farmington.
He was predeceased by five brothers and five sisters.
At an early age, Loran was a self-taught musician, juggler, roper, and animal trainer. Most of his working life was spent in carnivals and touring bands- most notably, as bassist of CBC's Countrytime, during the 1970's.
A private graveside service will take place at a later date. Online condolences may be made by visiting www.sweenysfuneralhome.com