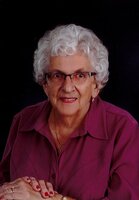 Iva Pauline Eldridge
Iva Pauline Eldridge
September 11, 1931 - July 14,2022
After a full and active life, Iva passed away in Bridgewater at age 90 following a brief period of declining health.
Born Iva Langille, she was predeceased by her first husband Clyde B. Hiltz of Martin's River, and second husband Ron Eldridge of Chester Basin. As the baby of her family, she was predeceased by her five older brothers.
For most of her life she lived in Martin's River where she was a member of the St. Martin's Anglican Church, served in the altar guild, and as church treasurer. She was a lifelong volunteer fund-raiser for the Heart and Stroke Foundation. For over 20 years she and her husband Clyde operated a service station in the community, where she acted as bookkeeper as well as working in the station. She owned and operated Grannie's Yarn Shop for several years, teaching many to knit and helping them on projects. In her second marriage of 20 years, she and Ron relocated to Bridgewater. They were involved in Veterans' activities and Ron's fiddlers' group, travelling to various musical and veterans' events in Nova Scotia.
In 1939, when she was 8 years old, two of her older brothers went off to serve in WW II. She asked her mother to teach her to knit socks for the troops and thus began an 82-year journey of knitting for family, friends, and charities. Knitting was her creative outlet, and her calming activity in times of stress. In the past few years in Bridgewater, she was a member of a seniors' group at Holy Trinity Anglican Church, gathering for fellowship and knitting articles for various charities.
She was delighted to see both her granddaughters complete their education in Veterinary medicine, and both get married.
She is survived by her son Barry (Debbie) Hiltz; daughter Nancy (Al) Cyples; granddaughters, Jessica (Brad) Lowe, and Jolene (Alphonse) Vermeulen.
The family extends our thanks to the staff at Ridgewood Assisted Living Centre for their care for Mom over the past year and a half, especially during the pandemic where they were so diligent in keeping her safe. We also thank Dr. Anne Chaisson, her associates, and the exceptional nursing staff at the South Shore Regional Hospital for their care and understanding these past months.
Cremation and arrangements are in the care of Sweeny's Funeral Home, 35 York Street, Bridgewater. There will be a private family graveside service at a later date. In lieu of flowers, donations may be made to the Heart and Stroke Foundation. Online condolences and donations may be made by visiting www.sweenysfuneralhome.com.