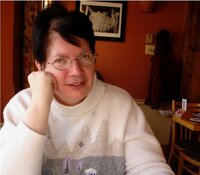 Margaret Rose Rutley
RUTLEY, Margaret Rose – Age 75, of Bridgewater passed away peacefully, August 12, 2022, in South Shore Regional Hospital, Bridgewater. Born in Bridgewater on July 7, 1947, she was a daughter of the late Arnold and Mary (Stafford) Carver.
Surviving is her husband, James Edgar Rutley; daughter, Mary Ruth Anne (Kim) Morey, Barss Corner; son, Mark Justin Rutley (Cindy Pyves), Ottawa; sisters, Marilyn Oliver, Halifax; Christine (Ralph) Meisner, Conquerall Mills; grandchildren, Hugh James Morey, Barss Corner; Jacob Joaquin Rutley, Ottawa; Cedar MacKenzie Rutley, Ottawa. Margaret was an international recognized poet and author.
Arrangements have been entrusted to Sweeny's Funeral Home, 35 York Street, Bridgewater. At Margaret's request, there will be no visitation or service at this time. Memorial donations may be made to the Canadian Cancer Society. Online condolences and donations may be made by visiting www.sweenysfuneralhome.com