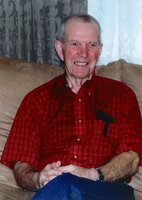 Joseph Everett Hebb
HEBB, Joseph Everett – Age 83 of Wileville, passed away at home on September 21, 2022 surrounded by his loving family. Born in Bridgewater, he was the son of the late George and Myrtle (Nowe) Hebb.
Joseph is survived by his loving wife, Barbara (Conrad) Hebb; fur baby, Rascal; sisters, Margaret Matchett, Windsor, Ontario and Glenda Brown, Bridgewater; brother, Robert Hebb, Wileville; many nieces and nephews. He was predeceased by a brother, William Hebb.
Funeral arrangements are under the care and direction of Sweeny's Funeral Home Bridgewater. A private graveside service for family and close friends will be held in Brookside Cemetery on Tuesday, September 27, 2022 at 2 p.m. The family has requested if everyone could bring a single red rose to place on the urn.
Memorial donations in Joseph's memory may be made to the Canadian Red Cross, South Shore Hospice Palliative Care Society, VON Canada or the Rose Fund. On-line condolences may be made by visiting www.sweenysfuneralhome.com