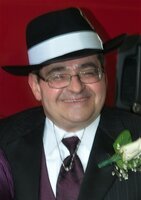 Richard Walter Johnson
Johnson, Richard Walter – age 64 of Oakhill passed away October 5, 2022, on his own terms, in South Shore Regional Hospital, Bridgewater. Born in Halifax on December 3, 1957, he was the son of the late, Valentine G. and Shirley J. (Finley) Johnson. Richard leaves behind, his loving wife, Janet M. O'Toole of Middle Sackville, companion of 19 years, married 12 years inclusive.
Autobody work was Richard's passion, and he did this for many years. He enjoyed working on antique cars, as well as cruising around in his 1975 Newport, and attending car shows. One true enjoyment was walking the trails with his faithful dog, Digger, every chance he had. He loved his music and played it often, even while gardening.
A memorial service will be held 2 p.m., Thursday, October 13, 2022, in Holy Trinity Anglican Church, Bridgewater, Rev. Simon Davies officiating. In lieu of flowers, donations in Richard's memory may be made to the Canadian Cancer Society or an animal shelter of your choice. Arrangements entrusted to Sweeny's Funeral Home, 35 York Street, Bridgewater, where online condolences may be made by visiting www.sweenysfuneralhome.com